Chad Wienen Remains Undefeated at Underground MX



Pro ATV Motocross – Underground MX – Round 2
Kemp, TX  – Wienen Motorsports/Yamaha's Chad Wienen extended his points lead by dominating round two of the 2016 Pro X ATV Motocross National Championship. Underground MX Park hosted the racing in Kemp, TX. Wienen's 1-1 moto finishes secured him first place in front of Maxxis / ELKA's Joel Hetrick in second, and Baldwin's John Natalie Jr rounding out the Pro ATV Podium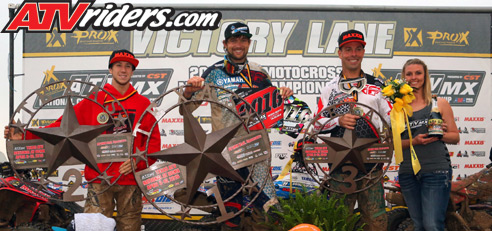 Undergound MX – Round 2 – Pro ATV Motocross Podium (left to right)
Joel Hetrick (2nd), Chad Wienen (1st), John Natalie Jr (3rd)
It started out as a beautiful day with overcast skies, and great track conditions for moto one, which Wienen took full advantage of by launching his Yamaha out of the gate to claim the holeshot by edging out Natalie Jr. Wienen never looked back, clinching the first moto victory with a nearly eight second gap to second place. "It was a great start to the weekend and everything is working out good. The track is really challenging right now it has a lot of bumps and a lot of soft spots so you have to be smooth and be smart," stated Wienen after his moto one win.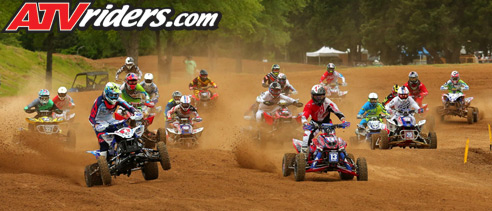 Chad Wienen edged out John Natalie Jr to claim the Pro ATV Motocross Moto One Holeshot
As all racers know, everything can change in an instant, and that's exactly what happened for the second moto of the day when the skies unexpectedly opened up 30 minutes prior to the second moto, saturating the track. A few minutes before the gate drop the rain paused, catching a few riders off guard, thinking it was over. Unfortunately, it was just a false sense of hope, and after the parade lap the skies opened up once more. Wienen proved he is a force to be reckoned with on any type of track conditions by dominating the second moto much like he did the first.
Chad Wienen once again claimed the Holeshot in the Moto Two
"I really wanted that holeshot, to stay clean," said Wienen, and that's exactly what he did. With a clear track in front of him Wienen cruised his Yamaha to the top spot on the podium with his third straight moto finish of the season. "I just wanted to put in some good clean laps and not make any mistakes. I felt really in tune with the machine," explained Wienen.
Maxxis' Chad Wienen held the lead from start to finish in Moto 2 to claim his third straight Moto win to remain undefeated in 2016
Wienen extended his points lead to 17 over the second place of John Natalie, Jr. heading into the third round. "It has been such a solid package we put together this year. It is surreal today how smoothly everything went. My riding was spot on and I'm just really happy with the team and how everyone worked together. My mechanic, Nate is great. He had some big shoes to fill, but we have been friends for a while now and work together really well. I am really happy to have him on board," stated Wienen.
Chad Wienen Remains Undefeated at Underground MX



Pro ATV Motocross – Underground MX – Round 2