Chad Wienen Dominates Daytona ATV Supercross
2016 Daytona ATV Supercross Pro Race Report
Daytona, FL (3/8/2016) "Dominate" is a word that is often thrown around wantonly in the world of racing. There was nothing wanton about how Chad Wienen performed in the Fly Racing ATV Supercross at Dayona International Speedway, which was also opening Round of the 2016 AMA ATV National Championship presented by CST Tires for the Pro racers only.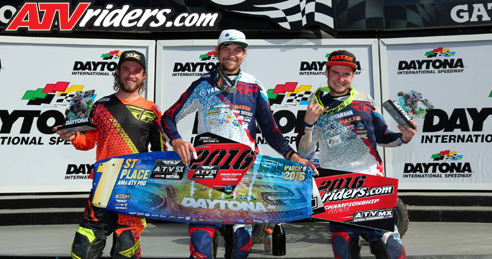 FLY ATV SX Pro Podium (left to right)
Jeffrey Rastrelli (2nd), Chad Wienen (1st), Thomas Brown (3rd)
In fact, Wienen Motorsports/Yamaha's Chad Wienen proved he's ready to earn is fifth consecutive title by taking the ATVRiders.com fastest qualifier prize, winning his heat and literally running away with the main at the Daytona ATV SX. Goldspeed Tire's Jeffrey Rastrelli finished second, ahead of Maxxis' Thomas Brown, John Natalie Jr and David Haagsma.
Under partly cloudy skies and with temperatures in the 80s, the event was certain to entertain, and it definitely did. After crashing in his heat while leading, Baldwin Motorsports' Natalie's eighth gate pick didn't seem to matter as he snagged the holeshot and set in to lead the first of the fifteen-lap contest. Wienen, however, was not going to be denied and he took the lead and ran away from the field.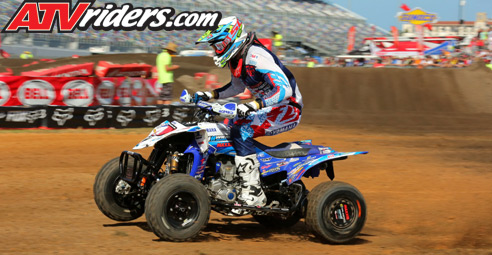 Walsh Racecraft's Chad Wienen made the early pass on John Natalie jr to take over the lead & quickly began building a lead on the pack
"The starts were key today," explained Wienen. "I got the holeshot in my heat, and I was second in the main. I ran high around John and took off from there. We had an awesome setup today. I can't say enough about how well we rode today.
In the final laps of the Daytona ATVSX, Chad Wienen just cruised around the track to victory
"I hit my lines cleanly and I was still pulling away," added Wienen. "I just felt like I was on another level today. I was getting a little leery about how smooth the track was early on, but it really came around in the main. We're full steam ahead. We have a great group of people behind us this year. We're here to get the job done and enjoy it afterwards."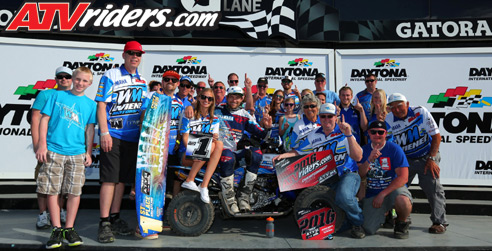 Chad Wienen celebrated his Daytona ATV SX Win with his friends & family on the Daytona's Winners Circle
JB Racing's Jeffrey Rastrelli, like Natalie Jr, crashed in his heat, but unlike Natalie, he didn't make the cut, so he qualified for the main by winning the LCQ, which also gave him one of the last gate picks, but it didn't keep him from challenging the front runners as he had a tremendous race-long battle with Thomas Brown.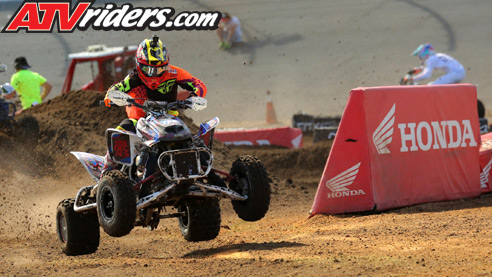 Gold Speed Tire's Jeffrey Rastrelli was on the gas in the Pro Main as he quickly closed the gap on the leaders & started making passes
"I had a nice little get-off; I went into a hole and fell off the bike," said Rastrelli of his crash during his heat. "That really put a fire under my butt and made me ride even better. I charged ahead and I knew the work I put in during the winter would pay off. I just stayed consistent and didn't make any mistakes. I had some really good lines out there today, made my moves and rode a solid race.
Jeffrey Rastrelli swapped positions with Thomas Brown before Rastrelli was able to secure the 2nd spot, which he held to the checkered flag
Standing in Daytona's legendary Victory Lane with a podium finish, Root River Racing's Thomas Brown was tough on himself, despite starting off the season with a third place finish. He said he's ready to win some races this year.
Maxxis' Thomas Brown got off to a great start & claimed the final spot on the Daytona ATV SX Pro ATV Podium
"I came across the finish line and I was very disappointed in myself because Jeffrey caught and passed me twice," said Brown. "I reeled him in at the end I couldn't push the pass. I'm ready to win some races this year. I've been the third-place guy, so it's time to start winning some races."
Thomas Brown celebrated his third place finish with his new mechanic Brian Johnson at the Daytona's Winner Circle
Despite Brown's disappointment in not winning, he still has a positive outlook on the season. "This is definitely a lot better start to the year than last year," added Brown. "It's nice to be in the hunt for the championship. The whole program is unbelievable this year. Hard work really pays off."
PEP's John Natalie Jr made his return to ATV MX competition this year after suffering a near career-ending crash last year that resulted rib fractures and a collapsed lung. In addition, the man they call "Iron Man" was suffering from a joint infection just prior to this race, which has had him down for nearly the past month.
Maxxis' John Natalie Jr grabbed the Holeshot by edging out Chad Wienen into the first turn
"I still took that Baldwin motor and pulled the holeshot," said Natalie Jr. "I've been laid up for almost three weeks with a bad infection in my left knee and the medication is really taking its toll on me. Sitting around not doing anything also took its toll. I just wasn't in the kind if shape I needed to be in to go out there and win. But I don't like to throw out excuses. I need to go back, do my homework and come back stronger.
Maxxis' Joel Hetrick challenged John Natalie Jr early on in the race before he collided into the rear of Natalie jr & went over the bars, which took Hetrick out of the race
"I'm extremely excited to be back," added Natalie Jr. "This is the first race in years that made me nervous. It felt good to be nervous again. This is nothing I can't overcome. This was a championship finish."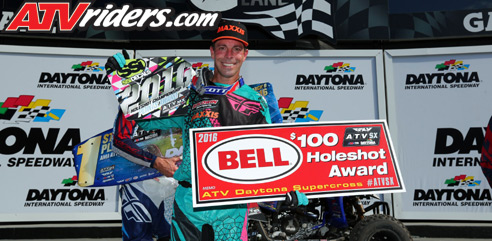 John Natalie Jr secured a point in the SSi Declas Holeshot Award along with a $100 Bell Holeshot Award
Maxxis' David Haagsma made his first start in the Daytona ATV Supercross and will be contesting the entire 2016 ATV MX season. The veteran Pro WORCS racer said he had trouble with his race setup, a mistake he won't make again.
ELKA's David Haagsma got off to a mid pack start, which forced him to work his way up through the pack
"I didn't have the suspension setup for the track; I thought they were going to groom it before the main, so that kind of put me at a deficit," said Haagsma. "This is good momentum for the season. I could have been way worse, so I'll take it.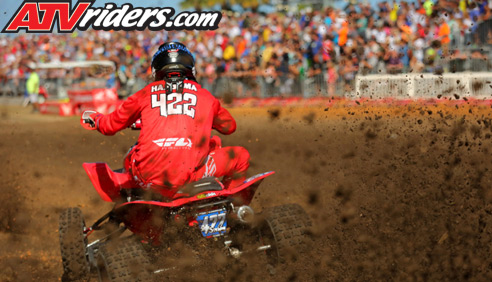 Maxxis' David Haagsma made the pass on Brett Musick & moved into the top five, which he held to the finish for a great start to the season
"I'm really pumped to do the whole series," continued Haagsma. "I have a couple of tracks coming up that I really like, including the next round in Texas. We're going to get home, train and get ready for it. The whole team is awesome. Everyone in it and everyone backing us, is superb. This is going to be a great year."
The AMA ATV Motorcross National Championship presented by CST Tires moves next to Underground MX in Kemp, TX April 9-10th