GBC Heartland Challenge UTV Race Report


Cody Miller Takes GBC Heartland Challenge UTV Overall Win
Carlisle, IA (8/28/2016) -Maxxis / Can-Am's Cody Miller carried over the spectacular success he's experienced in the GNCC series this season by claiming the overall UTV win in the GBC Heartland Challenge. It marked Miller's first victory in the grueling four-hour endurance event, driving a Can-Am Maverick Turbo. Jason Luburgh drove his Bikeman Performance Polaris RZR to a second-place finish, ahead of former X Games Supermoto racer Matt Burton and his RZR. Hunter Miller was fourth, followed by Michael Swift and Kevin Trantham in a Polaris.
GBC Heartland Challenge 4 Hour UTV 1000 Class Podium (left to right)
Jason Luburugh (2nd), Cody Miller (1st), Matt Burton (3rd)

The GBC Heartland Challenge has always been a showcase of the top SXS racers in the country, and this year's ninth annual race didn't disappoint. With 69 total entries, and 44 cars in the top UTV 1000 class, the race also featured a $3,000 check for the overall winner, as well as $500 bonus for each class winner from RT Pro (formerly RacerTech). The track featured a typical cross country course as in year's past, as well as the RT Pro Challenge section, which shortened the course, but challenged riders with broken concrete, tires, telephone poles and a huge dirt mound.
The 2016 GBC Heartland Challenge had 69 Team entries in the UTV competition, which was just one more than the ATV teams
With heavy rain in the forecast, the organizers pushed up the start time by two hours, but the race still featured a good mix of daytime and night time racing. Starting in a three row Grand Prix style start, Kyle Chaney took the holeshot and appeared well on his way to the win. Meanwhile Hunter Miller began reeling in Chaney and took the lead with Luburgh, and Cody Miller in tow. After a stunning five-lap shootout, Cody Miller took the lead for good on the final lap.
Can-Am's Cody Miler charging past his pits during the 4 Hour GBC Heartland Challenge
"My Can-Am Maverick Turbo was running strong and my Maxxis Tires were hooking up," said Miller. "Jason Luburgh and I had a couple of good battles. We caught up to Kyle Chaney and the battle was on with Jason, Kyle and my brother all within seconds of each other. After five laps of hard battling, I came out in the lead on the last lap. The car held up great. I clipped a couple of trees out there that would have ripped the front off of any other car. But with the Houser products, Elka Shocks, DWT Wheels and Maxxis Tires, it really held up. I can't say enough about Can-Am. They put out a great product. This is my third time coming out to the Heartland Challenge and we were finally able to pull it off."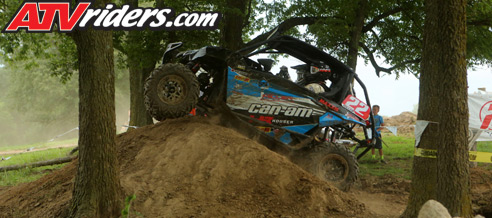 Maxxis' Cody Miller saved time each lap by taking the RT Pro Challenge section
Miller had a test of his forearm strength during the first half of the race after his car suffered electrical gremlins that short-circuited his power steering. However, once he solved that issue, he was virtually unstoppable.
"It made it very difficult to drive," explained Miller. "I changed the fuse and it only lasted a few seconds. So I kept pulling into the pits to try to find out what was wrong. About two hours in, I cut the wires to the rear taillights and taped on a couple of glow sticks. That ended up fixing the problem. After that, I put in a hard charge. I found the best lines without power steering. Eventually it came around."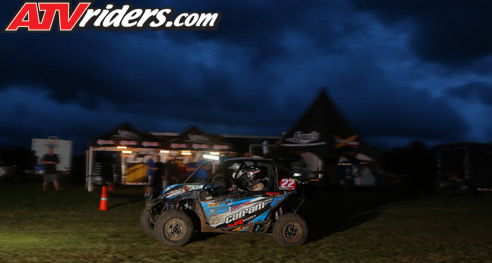 Houser Racing's Cody Miller is having a career best year of UTV racing by taking the GBC Heartland Challenge Win & leading the GNCC UTV Points heading into the final 2 rounds
Miller said the Heartland victory is part of one of his greatest seasons on record. Miller is currently dominating GNCC XC1 UTV competition with two wins, two additional podiums and a 31-point lead going into the final two races of the season.
SSi Decal's Cody Miller took home $3,000 for his Open UTV Win along with an extra $500 Gift Certificate from RT Pro
"This season has really been a golden one for me," said Miller. "My brother and I went all in to GNCC. We put everything we had to prove we could go out and win some championships. This is icing on the cake for what we're doing over in GNCC. I'm going to do my best to win the GNCC championship. If I do, it will be the biggest accomplishment of my racing career."
GBC Heartland Challenge UTV Race Report

Jason Luburgh joined Bikeman teammate Treavis Poynter. The pair took a detour from dominating TORC's new UTV class to race here. While they had planned to share driving duties, Luburgh was doing so well that he drove the entire race.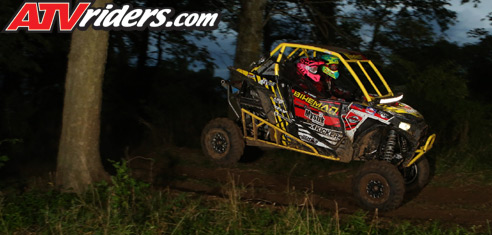 Bikeman Performance's Jason Luburgh is better known for his UTV racing success as a 2 Time Terracross Championship & current TORC UTV Points leaders
"I pitted for fuel and Treavis talked me into staying in," said Luburgh. "It was rough and I am definitely spent. We found some good lines and stayed out of the ruts. It was really survival, finding a pace and staying with it. The Bikeman Turbo worked really well today and The GBC Tires allowed me to go anywhere I wanted to."
GBC's Jason Luburgh drove the entire 4 hour race to claim the 2nd spot on the GBC Heartland Challenge Podium
Matt Burton is a retired X Games and flat track competitor. He won the 900 Class last year and decided to put it all on the line in the top class this year. He came away with a third in his bone stock Polaris RZR.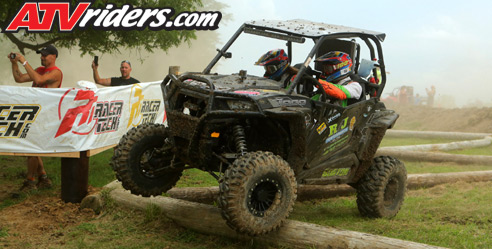 Matt Burton claimed the UTV 900 class win in 2015, so he decided to make the move to the UTV 1000 class this year & claimed the final spot on the podium
"This machine is completely stock; I don't even have an aftermarket exhaust," said Burton. "It was exciting, but it got really rough at the end. We had to come through the pack. I'm retired now, so this is what I'm doing. I wish I had a little more power. These guys really packed a punch. It was really tough. We really started rolling the laps at the end because I knew Hunter Miller was coming."
Hunter Miller was pleased to finish fourth after leading several laps. A broken axle and getting stuck in a bottleneck slowed his charge in the end.
Maxxis' #90 Hunter Miller held the lead before dropping back to a 4th place finish
"I had broken a front axle at around two hours and was running in two-wheel drive," said Miller. "I was getting it done, but I came up on a bottleneck and got high centered. I came back up to fourth, and then I got stuck again. It was all good, considering. This is the best I've ever done here and since I've only finished one GNCC this year, it felt good to just finish this one. This the toughest race we do all year, so to nearly finish on the podium is pretty solid."
Kevin Trantham was held up at the start of the race and had to climb through the pack to fifth. After pitting, Swift took over and held the position until the end.
Team UXC Racing's Michael Swift & Kevin Trantham rounded out the UTV Open Top Five
"We had to line up on the second row at the start and we got stuck behind a car that wouldn't fire," said Trantham. "We were a ways back, but we put our heads down and charged forward. We moved up quite a few places. We had a good night. We would have liked to get a podium, but it's still a good night."
Though disappointed by not making the podium, Swift enjoyed his ninth Heartland Challenge. He has always relished the camaraderie of the event and its competitors.
"It got a little rough at the end, but it had some good lines to get around so it was good," said Swift. "We've come out here since it started. We like to come out for the race, but we also like to hang out these people."
Kyle Chaney proved the oft quoted adage of endurance racing: "To finish first, one first must finish." Though dominant early in the race, his furious pace took a toll on his machine and he dropped out of the race in the final hour.
Can-Am's Kyle Chaney grabbed the Holeshot & early lead before a belt issue took him out of the race in the final hour
"I tried to keep my pace the whole race, but my car kept overheating," said Chaney. "A fan wouldn't kick on. I had to stop and rewire the fan, and by that time we had bunched up. It was a pretty good race there for a couple of laps, but my swaybar broke. It put so much pressure on the rear end, that I toasted a belt."
In UTV 900, 57-year-old Chris Brockway won, ahead of the Brent Vanderford and Jared Nelson. All were driving Polaris RZRs.
GMZ's Chris Brockway secured the UTV 900 class win
"We started second and began moving through the 1000 class," said Brockway. "Then, all of the sudden, we had no brakes. We overheated the brakes and had to let them cool off. We also bent a tie rod, but we kept going. The course was great. It was challenging, but not too tight. I'm glad to be here and I'll be here next year."
Brent Vanderford was running is second Heartland Challenge in three years. Interestingly, he finished second in his last race here. "I got back up to third on the fourth lap and then we lost our brakes," said Vanderford. "So to run two-and-a-half hours and finish second with no brakes is pretty good, but I really came here to win. This race is fun. It's a good long race and I like racing at night. Everyone is great here and they help each other out. The whole Iowa series is a really great series."
Jared Nelson made his Heartland Challenge debut pay off, finishing on the final spot on the podium. His team had to change out a secondary clutch halfway through the race to keep him charging. "We got back out there and salvaged a podium," said Nelson. "We ended up two minutes behind second. This is my first Heartland Challenge race. It was fun. It is an awesome event and I was happy to be a part of it."
#93 Jared Nelson rounded out the UTV 900 Top Three
In UTV 800, Jeremy Thompson won in an Arctic Cat Sport Limited, marking the top finish for the Thief River Falls manufacturer here. Tyler Furman finished second in a Kawaski TRX, ahead of the Team Townsend Polaris.
Jeremy Thompson claimed the UTV 800 class win in the Arctic Cat Sport
"Last year we had some problems, so it was nice to get this win," said Thompson. "This is a 2015 Arctic Cat and it has won every race it's been in this year. The RT Pro section was so much faster. It wasn't too bad at all. We were talking the whole way through and we're happy to take the win."
Tyler Furman and his co-driver Brian Butler are development engineers for Kawasaki new SXS program. They were pleased with their machine's durability and even had some fun at the event. "We led most of the race, but we had some bad luck at the end after we did our driver change," said Furman. "We're pretty happy with the second place. The big point about the TRX is the durability and this race is a perfect showcase for it. As long as we avoid driver errors, it continues to turn laps. Development is a big part of it. We want to know what modifications affect durability. Plus, this is a chance for us to get out of the office, enjoy it and have a little fun."
For the second year in a row, the Kawasaki Teryx Team brought home a 2nd place finish in the UTV 800 class
With record turnout and exemplary racing, this year's GBC Heartland Challenge is certain to be one for the record books.