Honda enters the Sport UTV Market with two Talon UTV Models
Torrance, CA (11/27/2018) – Further showcasing the unprecedented growth in the UTV industry, Honda announced its new Talon 1000X and 1000R Sport UTV models. The two new SXS Models, which are to be produced in Honda's Timmonsville, SC plant, are designed suit the needs of sport enthusiasts with a suite of technology, as well as race-bred features.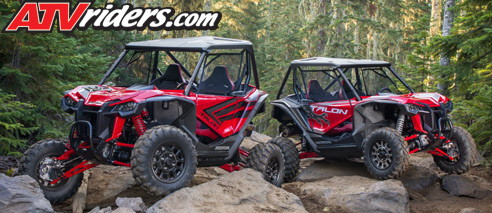 2019 Honda Talon 1000R & 1000X Sport UTV Models
The two new Honda UTVs are differentiated by their intended usage. The Talon X features a narrower track and is set up for the woods, rock crawling and more technical terrain, while the R model has a wider stance, and a suspension better suited for short course or flat out desert running.
2019 Honda Talon 1000R & 1000X Sport UTV Models
Each feature specially-valved FOX Podium Shocks (2.0 on the X model and 2.5 on the R). Front suspensions are similar, featuring double wishbones, but the X model features 14.5 inches of travel, while the R has 17.7 inches available. In the rear, the X has a three-link setup with high clearance trailing arms and 15 inches of travel. The R model adds toe links in the rear and sports 20.1 inches of travel. Both feature 44-56 percent front to rear weight distribution.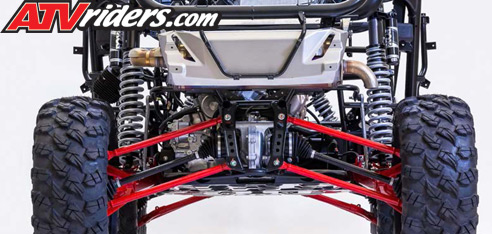 2019 Honda Talon 1000R FOX Podium 2.5 Shocks
Both feature Honda's trick 999cc Unicam parallel twin engine similar to the one used in Honda's Africa Adventure motorcycle. The engine uses a single cam in each head to actuate the four valves, saving on bulk, and giving it a broad torque curve. It also features a dry sump lubrication system with pistol skirt oil jets to help with cooling. While Honda didn't publish power numbers, its makes 94 horsepower and 72 lb. feet of torque in its two-wheel application.
2019 Honda Talon Paddle Shift
Eschewing the more common CVT belt driven transmission, Honda further innovates by using a six-speed DCT transmission. Honda became the first manufacturer to include a DCT in a motorcycle this year. Known for lightning fast shifts via paddle shifters, DCT technology initially was only found in exotic super cars, so our hats are off to Honda for using it in a UTV. It can also be run in fully automatic mode, and features on-the-fly changes from two-wheel to four-wheel drive via a dash mounted switch.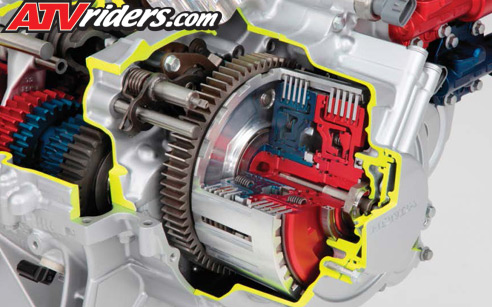 2019 Honda Talon DCT Transmission
The frame is produced in one piece, with all welding and assembly done in the USA, while the engine and transmission are made in Japan. Front and rear differentials are also built stateside.
Both Talons feature a broad collection of technology, including what Honda calls Electronic Brakeforce Distribution (EBD) and Brake Traction Control System (BTCS). EBD is part of the ABS system and can individually brake each wheel to ensure stability during braking. BTCS works under power to ensure the wheels with the most grip get the most power sent to him.
Other features include LED headlights, Hill Start Assist, oversized radiator and fan, driveshaft boot protectors, center console, tuned intake and exhaust, Maxxis Tires, and all weather seats. A full line of over 40 accessories are also available to allow customers to tailor their ride to suit their tastes and needs.
Will Honda race the new machines? With Yamaha already well established in short course racing, we'd expect the new machines will go toe-to-toe with the BluCru. Though GNCC is out of the UTV racing business, the Talon X seems perfectly suited for cross country and even King of the Hammers competition.
While pricing hasn't been announced, Honda officials said it should follow "comparable" models. The similar Yamaha YXZ 1000R starts at around $19,000 so that would be a good guess.
Production for the Honda Talon will begin in January, so units will hit the showrooms in early 2019, and we can't wait to take one for a test drive.