Tim Farr Takes Pro Mod UTV Points Lead With Win


2017 TORC Off-Road Championship Round 2Pro UTV Race Report
Joliet, IL (05/14/2017) – Tim Farr and CJ Greaves dominated the second round of TORC Off Road Championship presented by AMSOIL UTV racing during the Chicagoland Slam at the Dirt Track at Route 66 Raceway. Farr led every lap of the Pro Modified race in his Can-Am X3, while Greaves won his second consecutive Pro Stock race in a Yamaha YXZ 1000 in similar fashion.
TORC Pro Mod SxS / UTV Podium (left to right)
Kyle Chaney (2nd), Tim Farr (1st), Drew Schultz (3rd)
Nearly 100 UTVs turned up for the opening doubleheader round and 20 made each of the fields through qualifying. The 16-lap finals were held on the oval and infield of the dirt track. The events were each stopped at the halfway point for a competition caution, after which drivers were allowed to take a Joker Lane that cut nearly 20 seconds off one of their final laps. When they took that lane was a matter of strategy and luck.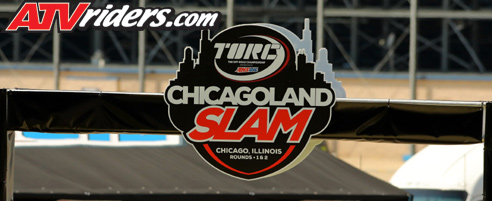 2017 TORC Chicagoland Slam Season Opener
Further complicating things were the changing nature of the track during the races. Starting out wet and slick, the track quickly dried during each feature ending in dry and tacky conditions.
In the Pro Modified race Farr took the lead at the start and drove away from the field. Behind him, the battle for second was heated. On lap two, round one winner Rodney VanEperen was up to third. He then took second from Kyle Chaney just before the competition caution.
JB Racing's Tim Farr was the fastest qualifier on Sunday, which earned him the pole for the start of the 20 UTV Pro Mod Main Event
On the restart, VanEperen's Yamaha fell out of the race with a broken throttle linkage, handing the second spot to Chaney with Drew Schultz's Bikeman Polaris in third. While Farr and Chaney drove to first and second-place finishes, the battle for third was intense between Schultz and David Plavi, who was driving in relief of Darin Howie. With his brakes fading, Plavi went wide in the final turn, handing the third spot to Schultz. Plavi was fourth in the Bikeman Polaris, ahead of the Yamaha of Zac Zakowski. Interestingly, four out of the top five were GNCC veterans.
Farr, who finished third in round one on Saturday, worked hard overnight to solve overheating issues that slowed him in the first race. It was clear he fixed those issues when he qualified first and it became even more obvious when he dominated the race, though clean air definitely helped his march.
Can-Am's Tim Farr held the lead from start to finish to take a dominat win in the Can-Am Maverick X3
"We worked on it yesterday and while it's still not completely gone, qualifying first and staying in clean air helped today," said Farr. "The car worked awesome. This Can-Am is really fast."
After the competition caution, Farr made a tentative move onto the Joker Lane. Many racers try to fake out the competition going into the shortcut lane, but Farr didn't want to make a mistake.
Tim Farr took over the TORC Pro Mod UTV Points lead with the win combined with his 3rd place finish on Saturday, which he credits to JB Racing's Jody Bateman for all his work in preparing the Maverick X3
"I threw it in good, but I didn't want to catch a wet spot and turn it around," said Farr. "The car was awesome today. It went everywhere I pointed it."
Kyle Chaney, also a GNCC veteran, was making his TORC debut this weekend in a Can-Am. He made several huge setup changes prior to round one and came out, finishing second in both races.
XPS' Kyle Chaney battled with Round One Winner, Rodney VanEperen, before the caution with VanEperen making the pass, but he suffered a mechanical issue after the caution, which moved Chaney back into the 2nd spot behind Tim Farr
"I didn't expect to come into this weekend and win," said Chaney. "I was hoping for top fives, so two podiums ups my standards. I just got my Fox shocks back a couple days ago so I only got to test before my motor was tuned, so that changed the setup. I was a second and half off the pace in practice. I called my buddy Larry Pegram. He used to race this kind of stuff and he told me how to change my setup. I looked at Tim's setup. I changed everything and dropped a second and a half."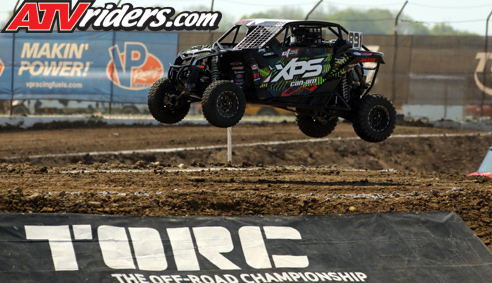 Kyle Chaney went 2-2 on the weekend, which now has him just one point behind Tim Farr in the TORC Pro Mod UTV Points championship
Crash Addict / Bikeman teammates Drew Schultz and David Plavi battled for the last two laps before Schultz made the pass for third. Schultz followed Plavi with two laps to go, looking for a line to pass and found it in the final corner. The podium was Schultz's first in professional off-road competition.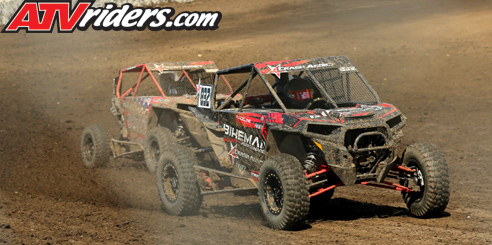 Crash Addict / Bikeman's Drew Schultz makes the last turn pass on his teammate, David Plavi, to take the final spot on the UTV Pro Mod Podium on Sunday
"I saw Plavi leave a door open for me, so I dipped low on the inside and the next thing you know I was in third place," said Schultz, who started eighth. "I held it steady for the first part of the race and as the track dried off I made my moves."
FOX's Drew Schultz scored his career first Pro UTV Podium finish a Round 2 of the TORC Off-Road Championship Series
Plavi had a mechanical issue with his car prior to the event and wasn't able to compete until Howie asked him to drive for him. Howie was involved in a big crash on the first day of competition, but Crash Addict cage and components held up, so they were able to repair the car to compete on Sunday, while many thought it would have been totaled from the impact with the tire and k-rail. Plavi struggled with brake problems throughout the race before finishing fourth. TORC allows drivers to substitute in cars to help maintain points positions.
Crash Addict / Bikeman's David Plavi stepped in the #888 Polaris for Darin Howie hat suffered a serious crash on Saturday, but he is now tied for 5th in points with Plavi's 4th place finish on Sunday
"Darin Howie wrecked on the front straight yesterday and got pretty banged up so he let me use his car," explained Plavi. "We had a really good run, but I lost my brakes on the second lap. I was just trying to drive cautiously and fast. I hit on the tabletop pretty hard and was pumping the brake pedal, but I blew the corner and he got past me."
Zakowski worked hard for his second top five of the weekend. After finishing fourth in round one, he lost an engine after qualifying for round two. He started last after changing the engine and drove through the field to finish fifth.
Country Side's Zac Zakowski proved his 4th place on Saturday was no fluke as he charged his way from 20th place to secure a 5th on Sunday, which now has him third points championship
"We had a good run in qualifying and then we blew the motor on the last lap, so we had to run the final with a bone-stock engine," said Zakowski. "We were a long ways back. I gave it everything I had, and we were passing turbos left and right. The car is perfect in the corners. I was impressed that we did it."
In the Pro Stock race, Greaves took the lead from the inside pole in his Yamaha and survived two restarts to dominate the race. Kenny Masch made a slick inside move in his Yamaha on the final lap going into the infield and took second from Bill Dixon. Dillon Pointon then made a bold outside move on Dixon going into the next turn and finished third, ahead of Zach Martin and Dixon.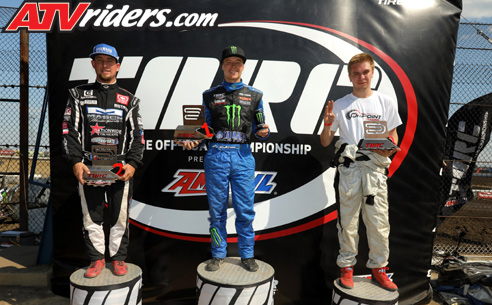 TORC Pro Mod SxS / UTV Podium (left to right)
Ken Masch (2nd), CJ Greaves (1st), Dillon Pointon (3rd)
Greaves led from the pole and wasn't seriously challenged, winning his second race of the weekend. The YXZ 1000 was again the car to beat as Yamaha drivers swept the podium for the second consecutive time.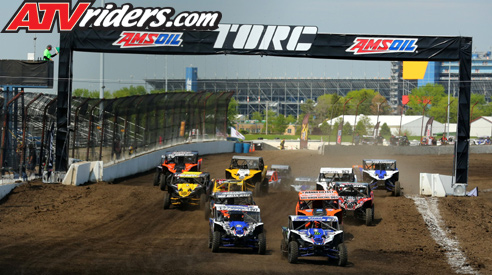 Monster Energy / Yamaha's CJ Greaves earned the pole position on Sunday unlike Saturday when he had to start in the back of the pack
"This YXZ is just unreal," said Greaves. "We spent the entire offseason testing, making these Yamahas as good as we can. We just keep working at it and every time we go out we find a little bit more. I can't thank the guys at Yamaha and Monster Energy enough. These things are going to keep getting better every time we get on the track."
Greaves said it was a lot more fun winning from the pole than having to drive from last on the grid like he did in round one. He admitted it was just as hard, though.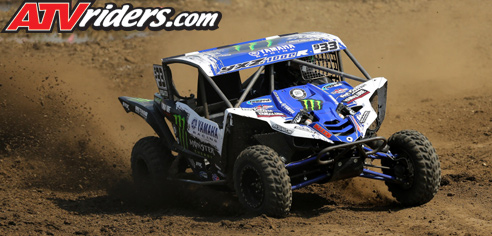 CJ Greaves held the lead from start to finish to claim both wins in the TORC Chicagoland Slam Doubleheader
"I still had to work just as hard to stay up front, but it was definitely a little easier not to have to start 20th and go through all of the roost and the water," said Greaves. "It was a lot more fun. At the end of the day, it comes down to how many laps you can do consistently and not make any mistakes."
Masch earned his second runner-up finish of the weekend. Though he challenged Greaves early in the event, he was still happy with the two runner-up efforts.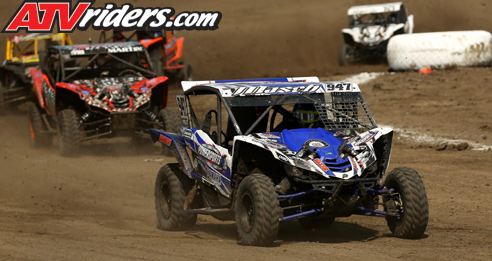 Ken Masch challenged CJ Greaves early on in the race, but Masch held on to claim the 2nd spot once again on Sunday
"It was slick at the beginning, I was watching CJ and I wasn't hitting my lines," said Masch. "Two second places is like two firsts for us. We're a small team, so hopefully we can grow from this."
Pointon made his TORC debut this weekend, and was pleased with his third-place finish. Pointon won the RMURA Pro 1000 title last year and made the trip from Colorado to race here.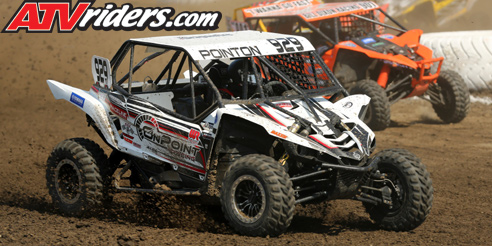 OnPoint Racing's Dillon Pointon made an impressive TORC debut by scoring the final spot on the podium in the Pro Stock UTV class, which boosted him to 4th place in the points championship
"This is our first weekend at TORC and this Yamaha is dialed in," said Pointon. "The guys out here are the next level. They are so competitive and it's amazing to be up on the podium with these guys. Everyone just puts in a lot of effort for this series."
Bikeman Performance's Zach Martin finished in the 4th spot, which has him top three in the points chase
In the Pro Modified championship, Farr leads by one point ahead of Chaney. Zakowski is third, 11 points back. In the Pro Stock title chase, Greaves leads by five points, ahead of Masch. Martin is third, six points back.
After an exciting TORC Season Opener with Yamaha, Can-Am, and Polaris UTV Racers all taking spots on the podium, the next round of racing nearly a month away on June 10-11th at ERX Motorpark
The TORC Series next heads to ERX Motorpark in Elk River, MN. The Twin Cities Takedown is scheduled for June 10-11th.