Brock Heger won his second consecutive Production UTV 1000 championship, making him the only champion in class' short history, while Corry Weller won the inaugural championship in the Turbo UTV class. The Weller Racing teammates took home the titles in what could well be the crowning achievement in one of UTV racing's oldest teams. Yes. History was made again this year in the Lucas Oil Off Road Racing Series.
While the series has always been known as the leading West Coast short course truck and buggy venue, with the sport of UTV racing growing at a torrid pace, it came as no surprise that the Lucas Oil Series wanted a piece of the action.
After debuting Production UTV racing last year, it introduced the Pro Turbo class this season, making it the perfect proving ground for all of the manufacturers. The series further bolstered its market share by hosting the Midwest Short Course League, which was born out of the demise of the TORC Series.
With 12 rounds on tap at traditional venues in California, Arizona, Mexico, and Nevada, the series moved further east this season. It held doubleheader events at Utah Motorsports Campus and at Lucas Oil Speedway in Wheatland, MO.
Car counts were up, especially in the Production class. With qualifying times of the top ten at most races measured in 10ths of a second, the class was certain to be competitive.
Heger came into 2018 the odds-on favorite to repeat his title run last season. He didn't disappoint. Driving a Yamaha YXZ 1000R, Heger was the picture of consistency, winning four races and only missing the podium once. He won the title by an impressive 64 points.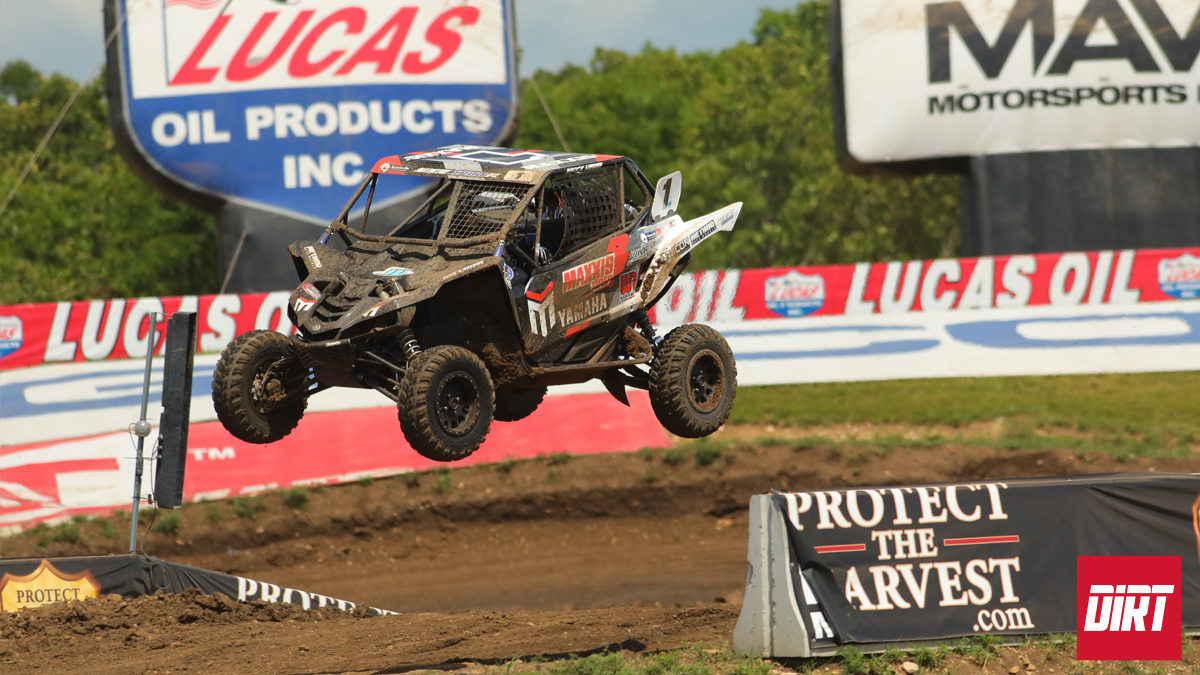 Heger is not a fan of points racing, and chose instead to focus his efforts on winning races early in the season. His lone bad finish at Glen Helen, though, had him breaking out his calculator.
"I sat back and realized I had a lot on the line," explained Heger. "For most of the season I was just pushing and not worrying about points. Glen Helen was the one race where I missed the podium, so that was a bummer. Beside that it was a good year and was better than we did last year."
Yamaha has stepped up big with its support of UTV racing this year. Part of that saw Heger pocketing a $15,000 bonus from Yamaha for the title. Heger is stoked for the support Yamaha is bringing to the sport.
"This wouldn't have been possible without Yamaha," said Heger. "The YXZ 1000R is an amazing machine. We're back-to-back champions and I'm pumped on that. It's cool that Yamaha and Blu Cru to put up this $15,000 bonus. It shows how supportive they are of the sport."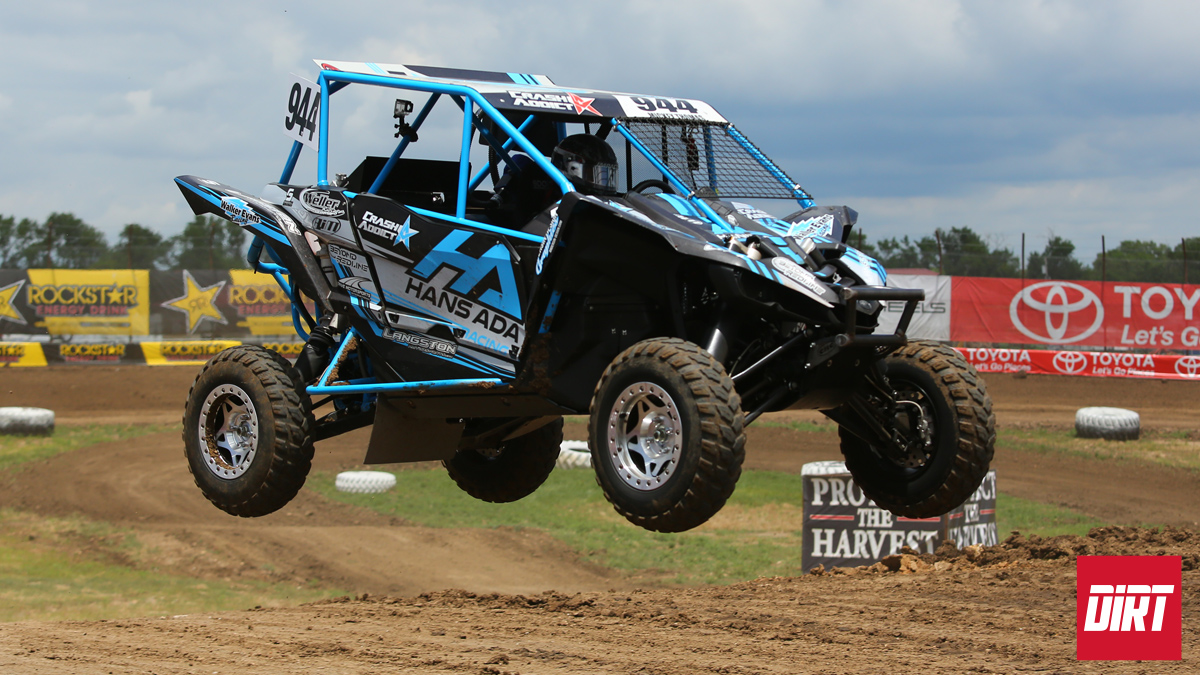 Fellow Yamaha racer Mickey Thomas finished second in points after winning one race and scoring three additional podiums. That victory came at Glen Helen, where he also won the Pro Lite race, making for a storybook weekend for the Georgia native.
"Winning both races on Friday night…you can't really beat that," said Thomas. "I didn't used to like the track, but I'm getting to like it more based on my results. My whole family was there and it felt good to have a great day."
After several years of running his own team, Thomas joined Hans Ada Racing this year. He said it made a huge difference in his performance.
"Hans Ada Racing helped me out a lot this year," said Thomas. "He brought a great car and we got results. It was a great decision and I can't thank Hans enough for all that he does. It's a great program for someone to join the series and have a competitive ride."
Hadn't it been for bad luck late in the season, it may well have been Myles Cheek celebrating the title. Cheek won five races, the most of any driver in the Production class this season, but only scored one additional podium. He handed Polaris third in points.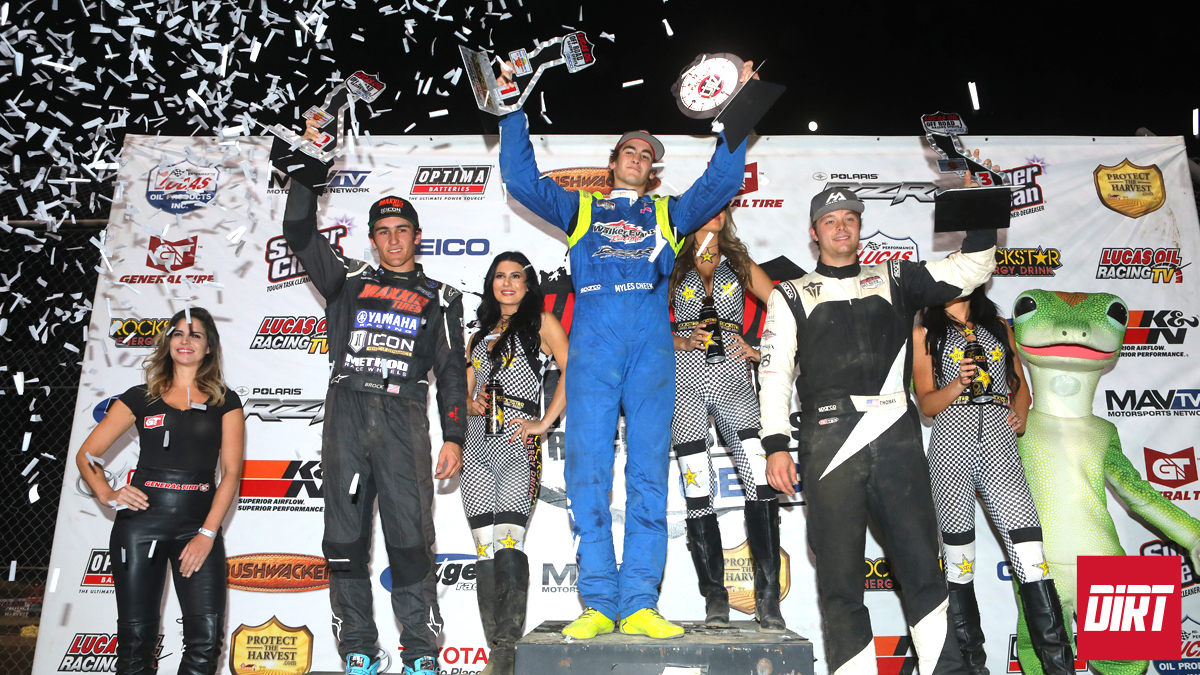 "Third in points is not a bad year, but we'll be looking for more consistency next season," said Cheek. "We really wanted to put it on top for Polaris this year, but we just had some bad luck there at the end. It's always tough thinking about the little things you did to lose points."
Cheek pointed out just how competitive the class was this year. Production machines are only allowed a few modifications, mostly for driver safety, so consistent driving is rewarded. If the speed charts in qualifying are any indicator, the field was stacked.
"The top four were all within .003 in qualifying for the finale," said Cheek. "So it was definitely close."
Robert Stout took his mastery of the asphalt to the dirt this season finishing fourth in points and winning the Rookie of the Year award. Driving a Yamaha, Stout earned three podiums, including finishing second in the season finale. Interestingly, he also finished fourth this year in the Mazda Global MX-5 Cup Series.
"I'm really happy to see our improvements this year," said Stout. "If you look at our results from Chandler round one and not being able to qualify in the top 10 to now being upset when I don't qualify first, it's a big step in the right direction. We've had a lot of success and we've had weekend where things didn't fall our way. I think we have a really good shot being a championship contender next year."
Stout was a busy man this year. Two races in the different series overlapped. Despite no practice time, Stout earned two of his podiums at those events.
"We had races where we had no practice and I hopped in the car to run on a track I'd never seen," said Stout. "I finished on the podium at both of those weekends."
Rounding out the top five in points was Jason Weller. Weller, who earned three podiums this year, ran as high as second in points, but finishes outside the top five late in the season pushed him back to fifth in the final tally. While satisfied with his driving this season, he was more focused on his team's success.
"I'm really happy for Corry, Brock Heger, Paul O'Brien, and our whole team," said Weller. "To win the championship in both classes it's really cool for Weller Racing. We have great drivers, a great crew, and huge family support. That's really what it takes."
With the hard work of the season behind him, Weller is already planning for next season. He may actually step away from the car, focus on being a team owner, and work on his wife's, Corry's, car.
"If we can fly a few guys out to help out, I will race," said Weller. "If it's just me, I'll step back and focus in Corry's program, which I'm totally cool with. She's definitely the racer in the family. I have fun either way. If she's out there winning in a car I setup, that's pretty cool."
Jeremy Houle also made history by winning the season finale in a Speedwerx-prepared Textron XX. The new machine has been making waves this season, earning a victory in the WORCS Series, a podium for Houle in the Midwest Short Course League, and now a victory.
"This is a pretty cool deal," said Houle. "It may not look like it from the outside, but we know internally about the improvements we've made. To finish off strong about as far away from home as we can be, at a track we've never been to, speaks volumes."
In Turbo UTV, the class was dominated by teammate rivalry as Corry Weller and Paul O'Brien fought it out all season. The duo had many side by side battles throughout qualifying and main events, and they pushed each other hard. A few bad races at the end of the season cost O'Brien and Weller won the championship.
Driving a Can-Am Maverick X3, Weller was dominant this year, winning five races and nabbing three additional podiums. Despite it being her first year in the Can-Am, and her first year in the class, she shined. Can-Am is celebrating, as well, as X3s swept the top three positions in points.
"It's fun making history," said Weller. "This is the first championship in the new class. It's been a great season for Can-Am. New machines and new classes can be challenging, but they can also be a lot of fun. We figured things out pretty quickly. Right out of the gate I was comfortable in the Can-Am."
Though they fought it out on the track, even making contact in one race that took O'Brien out of contention, Weller said she trusts O'Brien. She was also driven by his competitiveness.
"It's good to have battles with someone you trust," said Weller. "Paul knows what he's doing and he has respect for other drivers. We both love to battle, so we're on the same page, and even if he wins, it's a team win."
O'Brien won two races this season and finished on the podium five additional times. With his wife, Theresa, spotting for him, O'Brien also ran in the Production class this season and won the special non-points Lucas Oil Cup race.
"We had a good season," said O'Brien. "Corry and I raced hard and we raced clean. Our qualifying times were always close and I knew it would come down to the end and who had a bad race or not."
Interestingly, O'Brien's better half had to learn on the fly. A schoolteacher by day, Theresa O'Brien was a significant part of her husband's success this season.
"I'll be 45 in November and we got into this together," said Paul O'Brien. "She's up there spotting and it's just a neat thing. She's a schoolteacher by day and didn't really know a thing about racing, but it was neat to have her with me and to do this together."
Teenager Eliott Watson finished third in points after finishing on the podium four times this season. His best finish, a second, came at Glen Helen. He also finished second in the Pro Buggy title chase. Not bad for an 18-year-old!
"We made some big improvements to the Can-Am late in the season and ended up with some podiums," said Watson. "We're still learning out here, but we made progress. The Can-Am has been awesome. It's a super reliable car. It's easy to drive, it rotates well, it corners well, and it has so much power. I love it."
Watson didn't let the fact get to him that the two drivers finishing ahead of him in points were old enough to be his parents. In fact, he is one of Lucas Oil's many success stories as he started in the series' junior class.
"The Trophy Kart generation is coming up and making a name for themselves in the Pro classes," said Watson. "All of the Pro classes are stacked with drivers that started in Trophy Karts. They teach you so much about how to drive competitively. It's so cool to have worked my way up through the classes."
The 2019 season kicks off at Glen Helen on Saturday, March 16th for a night race, and this year, Wheatland, MO will be a combined West vs Midwest event in June, which is exciting news, so look for continued growth in car count, and even more historical moments as UTV short-course racing continues to move into the mainstream. DN