Parker, AZ – Josh Row and Travis Dillon teamed back up for the first time in 10 years and won the Best in the Desert Series Pro ATV season opener: The GMZ Winter Nationals Casey Folks Parker 250 presented by Polaris. Defending Pro class champions David Scott, Cody Mitchell, and Jeremy Gray finished second, followed by Duncan Racing's Erin and Drew Simmons, along with Mike Sloan. Driven Powersports' Don Higbee, Dofo Arellano, and Felipe Velez finished fourth.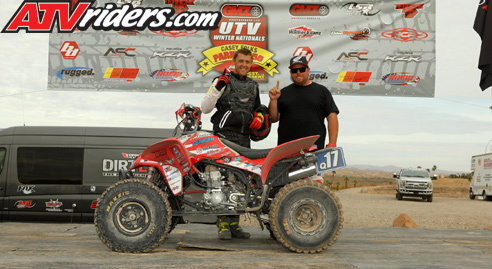 Josh Row & Travis Dillon teamed up to take the Best in the Desert Parker 250 Pro Quad Win at the season opener
Unlike last year, which was run under frigid temperatures and rain, this year's event was held under sunny skies with temperatures in the 80s. The dry conditions with little wind led to visibility issues, especially in the low areas of the track where dust just hung in the air.
The ATVs left the line just before sunrise. Starting in single-file fashion, the riders started in 30-second intervals. Gray left the line first and was putting in a strong run before he collided with a rock and flattened a tire, allowing Row to reel him in. At the finish, Row was just 30 seconds behind and won the race on adjusted time.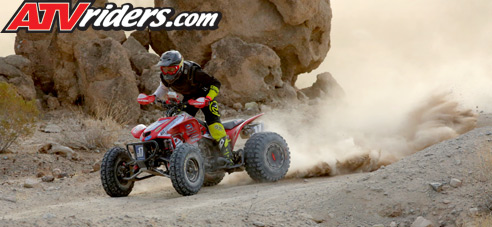 Q17's Josh Row started the race for the team & he quickly worked his way into a battle for the lead
Row and Dillon grew up racing ATVs together since they were children, so it seemed to be a perfect fit for them to team up and contend for the BITD title this season. They are off to a good start after last racing BITD together over a decade ago.
"Travis and I have been riding quads together since we were kids," explained Row. "We raced our first BITD race together in 2007 on a quad my dad put together. We've been racing against each other ever since then. It was cool to team up this year. I still had my quad from WORCS and I really wanted to make an effort to go for the championship in Best in the Desert. It's something I haven't done, so I figured why not this year?"
Q17's Travis Dillon took over on the second lap with Josh Row taking over on the final lap to bring it in for the win on adjusted time
The team worked every angle they could to get their Honda on the starting line. That hard work paid off for Travis Dillon as he scored his first-ever BITD Pro class win.
"I raced the Baja 1000 last month and here and there, but this was my first BITD race since 2013," said Dillon. "We begged and borrowed to get here, so it's pretty cool to see it all pay off. There's nothing like coming out here with your friends and family and get a win."
Jeremy Gray was putting together a fast run at the start, but got caught behind some of the pro dirt bikes. Trying to make a move in the dust, his Honda hit a large rock and deflated his tire.
Jeremy Gray made the switch to the Q1 Team of David Scott & Cody Mitchell for 2018
"We had a good lead and a good cushion, but I nailed a rock," said Gray. "I had a flat and had to ride on it for a few miles, which ended up shredding the tire. The course was fast, faster than in most years, and it was a tough race."
David Scott was happy to start out the year on the podium. Noting just how competitive the Pro ATV class has become, he knows that he and his CT Racing team must minimize mistakes going forward.
"Josh and Travis are a super fast team, they know what they're doing, and it'll take a perfect race to beat them," said Scott. "The bike was fast and ran great, but that's the way it goes sometimes. It was a fun race and they were definitely hauling ass. We'll be ready for the next one."
The Simmons Brothers, on their Duncan Racing Honda, were looking to repeat their victory here in 2017. Erin Simmons finished out the race and was happy to be back racing after sustaining a broken femur last season. He passed the Can-Am Outlander 1000R of Higbee during the last pit stop and went on to score the final spot on the podium.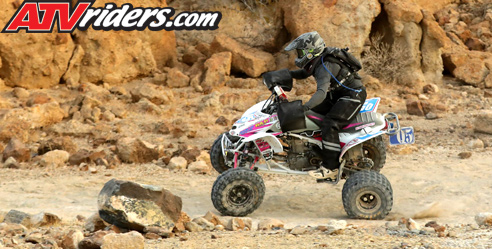 Q15's Drew Simmons, Erin Simmons & Mike Sloan rounded out the top three at the Parker 250
"It doesn't even feel like I was off for the four-and-half months I was recuperating," said Andrews. "Unfortunately, we ran a little too small of a tire and it got pretty rough on the last lap. We're really excited to finish on the podium."
Don Higbee's team fought vent tube issues during their pit stops that slowed their ability to refuel their quad. Arellano and Velez took their first laps on the only 4X4 quad in the class and were immediately up to speed.
Dofo Arellano & Felipe Velez joined Don Higbee's Driven Motorsports Team for 2018
"We had an awesome weekend with some of the fastest times we've had on the Can-Am Outlander," said Higbee. "We had an unfortunate problem that plagued us all day: we could not get fuel into the fuel tank. The tank wouldn't vent and it wasn't something we could fix in the heat of battle. So we got passed in the pits going into the last straight. We tried to reel him and just came up a minute short."
The Best in the Desert Series ATVs return to action at the Polaris RZR UTV World Championship. That race is being held April 6-7 in Laughlin, NV.