Rialto, CA (1/23/2019) – ACE Motorsports drivers Brian Willison and Laura Cole finished second and third, respectively, in the Pro Turbo class during the Best in the Desert Series Short Course event, part of the Parker 250. The pair was competing in their familiar Polaris RZR Turbos.
ACE Motorsports BITD SXS Racing
ACE Motorsports' Brian Willison (2nd) & Laura Cole (3rd) in the BITD Parker 250 Pro Turbo Class
Willison and Cole took on some heady competition in the event, including many factory-backed drivers. Despite the deep field, Willison drove his 2016 Polaris RZR Turbo to a runner-up finish, besting his fourth-place effort in the 2018 edition of the race.
"There were a lot of fast racers at Parker, so it was nice to finish on the podium," said Willison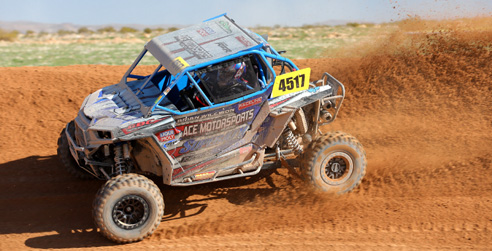 ACE Motorsports BITD SXS Racing
Super ATV's Brian Willison
Though his car is two years old, the ACE Motorsports team spent the offseason decking it out with all of the best components. Willison and Cole trusted their Holz Racing Suspension, Walker Evans shocks, Super ATV Rhino 2.0 axles, and GBC tires on the rough and whooped out course.
"My Walker Evans shocks and Holz Suspension components worked great in the Parker Python, which is like driving a rollercoaster," said Willison. "The car jumped really well and the suspension was fully compressed. I was on the gas the whole time through the whoops and had zero axle issues. Super ATV Rhino 2.0 axles are always phenomenal. We run them all season long and we never have a failure. My GBC Dirt Commanders with Tire Blocks worked perfectly. We had zero tire problems."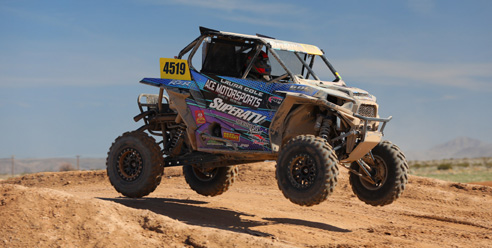 ACE Motorsports BITD SXS Racing
HOLZ Racing's Laura Cole
More impressive was Cole's third-place finish in her Pro debut. She stepped up from the Production 1000 class to run Pro Turbo and she shined, sharing the podium with her fiancé.
"This is a huge accomplishment for me," said Cole. "Last year I was in the Production 1000 class so it was a huge jump for me to move into Pro Turbo this year. Lining up against some of the top racers was definitely nerve wracking. So to come away with a podium feels amazing."
She was also impressed by the preparation and performance of her 2018 Polaris RZR Turbo. Having trust in the durability of her car was of utmost importance.
"The Polaris RZR was on rails," said Cole. "It is just moving so props to Kerry at Ace Motorsports because he built a solid car. The Super ATV Rhino 2.0 axles and suspension components were key today because it was rough and rutted. So to be able to stay fully pinned and trust my axles and my suspension definitely made a big difference."
Cole and Willison got engaged last season, fittingly at a WORCS race. They were both excited to be able to race against each other and share the podium.
"If I'm going to get beat by somebody it was nice to see Brian up there," said Cole. "We went back and forth for a while and then chased each other down. It's a blast to be out there with your partner in life and your best friend and run side by side."
"I was super excited to share the podium with Laura," said Willison. "It speaks volumes about how much effort we've put into our program. This is just our third year of racing so to beat these guys is exceptional."
Cole and Willison will return to the WORCS series when it kicks off SXS competition January 25-27 in Primm, NV.
Special Thanks to Our 2019 Sponsors:
Polaris, Holz Racing Products, Walker Evans, GBC Motorsports, Raceline, Bassani Xhaust, PRP Seats, SuperATV, Gatorwraps, Tireblocks