When Phil Blurton won the UTV Turbo championship his rookie year of Best in the Desert competition, many people said it was a fluke. Blurton shut down those detractors this year by completing another dominant season and earning his second consecutive BITD crown.
Driving his No Limit Can-Am Maverick X3 with co-driver Beau Judge, Blurton won four races this season. Though he started the season off slowly, with a rough run in the opening round in Parker, he took off from there winning the UTV World Championship, Vegas to Reno, the Laughlin night race, and the season finale in Pahrump. He finished second in the Mint 400 and the Silver State 300, which allowed him to easily clinch the title by a whopping 76 points.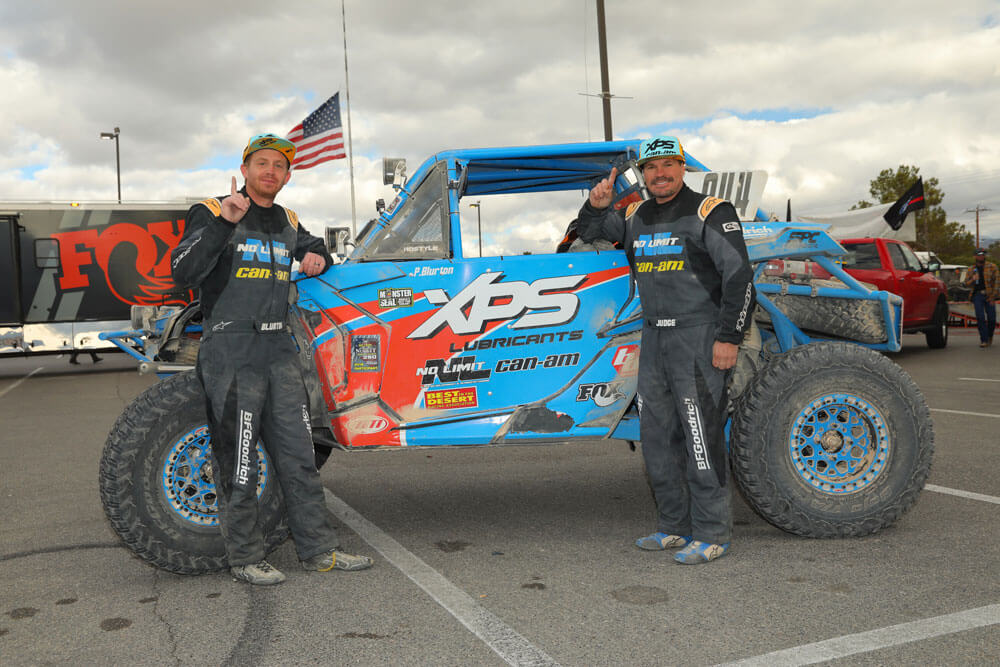 So dominant was his season that he merely needed to place in the top 20 at the final race to net the title. Instead driving conservatively and playing it safe, Blurton relied on the same strategy he employed all season, and he won with an impressive ten minute lead over second place
"There's nothing better than to finish with a win," said Blurton. "Last year, a lot of people said it was a fluke. The scary thing is that we can only go down from here, so we have to keep pushing."
Consistency is imperative in desert racing and that's what has driven Blurton's success. His company, No Limit, builds and prepares his Can-Ams. He also relies on Judge, an accomplished racer in his own right.
"We do a lot of prep on the car and spend a lot of time testing new parts," said Blurton. "Beau is an amazing racer himself, so that helps a lot having him in the right seat. We play off of each other a lot. I don't know what the exact key to our success is, but it's working right now."
Judge was amazed at the success he and Blurton have had during the last two seasons. Though the safe bet in the final race was to hold back and just run for points, Judge and Blurton asked one important question and the answer put them on the top step of the podium.
"Why change anything? We didn't and came away with another big win," said Judge. "People were saying: 'Who are these guys?' Now everyone knows who we are. This is like a storybook; it's unbelievable."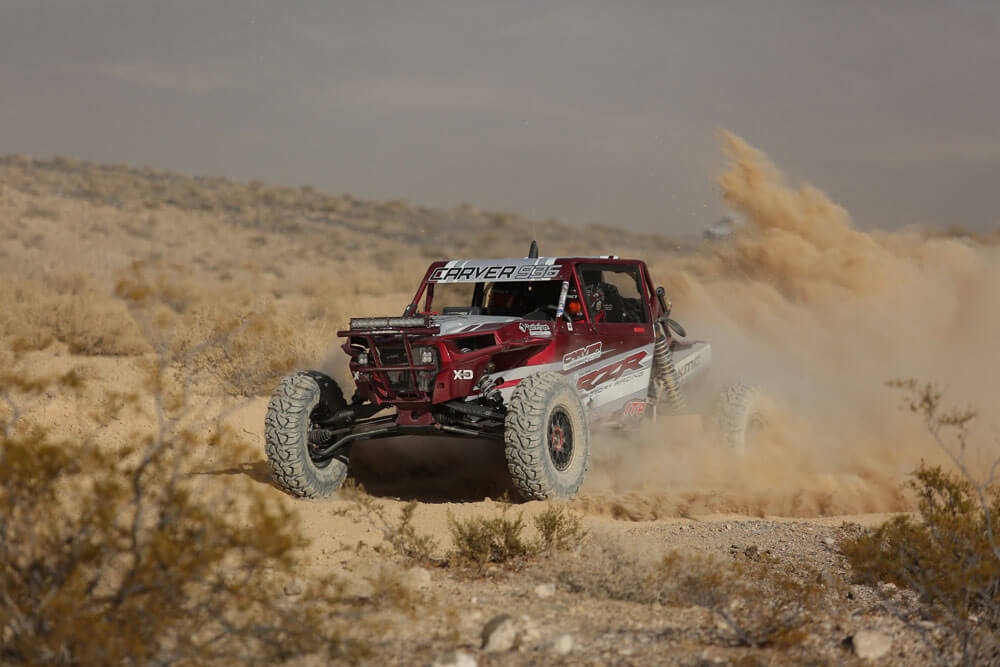 Jacob Carver finished second in points. Though winless this season in his Polaris RZR XP Turbo, Carver's consistency put him at the top of one of the toughest title fights this season with just 16 points separating second through fourth. Carver's best finish was second at Vegas to Reno.
"I always seem to miss by just that much," said Carver. "We're happy to be here. We had a solid year and we had a good finish to the season."
Also driving a Polaris RZR XP Turbo, Branden Sims was just seven points behind Carver in third. He scored a pair of podium finishes this season: a second at the Laughlin night race, and a third in the Silver State 300. The difference in points came down to the final race.
"We knew our finish in the last race was going to be the difference between second and third," said Sims. "He had a few less issues, and being a double points race, it made a big difference. This is the second time in four years that we finished in the top three. With the amount of competition and the number of races, a top three is nothing to be bummed about."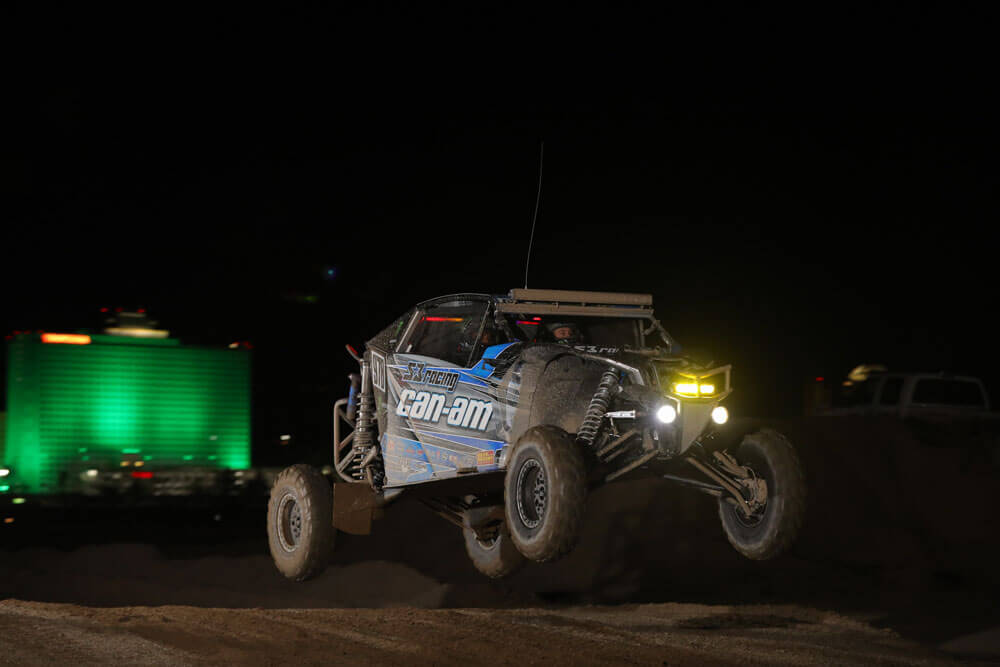 Dustin Jones was fourth in points in his Can-Am Maverick X3. Hailing from Bossier City, LA, Jones made the long treks out west count, especially in the two double points races. He scored third in both the UTV World Championship and Pahrump.
"We had a couple of tough races, and I really expected us to be in the top 10 somewhere, so I was shocked at our finish," said Jones. "Our goal for this year was consistency. We knew we had the speed, but we wanted to get a more reliable car, and be more consistent in our approach. This is a drastically different style of racing from our woods racing mentality."
Jason and Derek Murray had what could only be considered a tough season. Teething issues while developing Can-Am's new X3 Turbo four-seater resulted in a pair of DNFs for the usually consistent Murray Racing team. Several decent finishes, however, placed them fifth in points.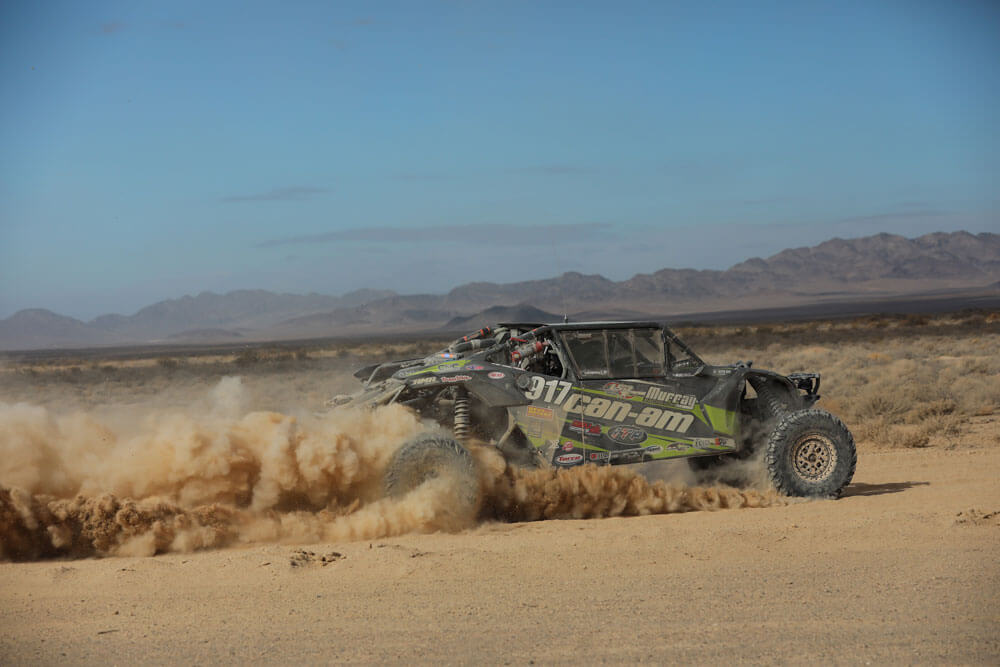 "Despite some small issues, we managed to stay in the top five," said Derek Murray. "We really have pushed the limits on the car this year. Part of that process is sometimes it works and sometimes it doesn't. But you will never know if you don't try it."
Cognito Racing's Justin Lambert and Can-Am's Logan Gastel tied for the sixth spot in the Turbo class points battle with each team having moments of glory this season, but unexpected gremlins kept both of them out of the top five in points, but they are both serious threats for the upcoming season with Lambert getting his Turbo dialed in and Gastel has a brand new Maverick X3 built for 2019.
"We're a team and we don't quit," said Lambert. "I have the best sponsors. We just have to figure out how to keep this thing together. Desert racing is tough and it keeps getting tougher. Everyone is getting faster and faster, so we just have to find that fine line."
While Blurton set the pace early in the Turbo class, it was anyone's guess as to whom was going to snag the Production UTV laurels. In the end, Kaden Wells won the title by just three points.
Six different drivers won the seven races in the class for naturally aspirated UTVs. Dodge Poelman was an early favorite. After winning the Mint 400 and the UTV World Championship, though, he left the series to pursue a mission for his church. WORCS veteran Ray Bulloch won the Vegas to Reno race, handing Textron's Wildcat XX its first BITD victory. Broc Smith finished first in the Silver State 300 and Mike Deley won the season finale, nearly unseating Wells in the process.
After losing the title last year by yet another small margin, Wells was happy to finally win the title. It was so close that had finished third or worse in the final race, the privateer racer would have lost the title again in his Polaris RZR.
"It was really close with the double points at the last race, especially with Deley getting the win," said Wells. "If I had have finished third in the last race, I would have lost it again. It's just my dad, my brother, and I so it's rewarding to win the championship."
Deley was in his first full BITD season and was just testing the waters for a plan to go for the title next year. Little he did he know he would come within a finishing position of winning it all, but he did earn the BITD Rookie of Year Award for his efforts.
"We weren't even trying to win the race," said Deley of the Pahrump finale. "We were just having a good pace going and it felt comfortable, so we ran with it. I'm happy with second in points because we were just seeing what we could do in our first year."
Sam Chournos at 15 was the youngest competitor in the class, but had an impressive run. He finished all seven races and even posted a pair of top fives to finish third in points. Chournos teamed up with co-driver Faith Foley (14) at Laughlin making them the youngest combined driver-co-driver team in BITD Pro UTV history.
"I was nervous starting out the season, but as I got more experience it got easier," said Chournos. "It was different to be the youngest driver against a lot of older competitors. Every race something different will happen. That makes it exciting."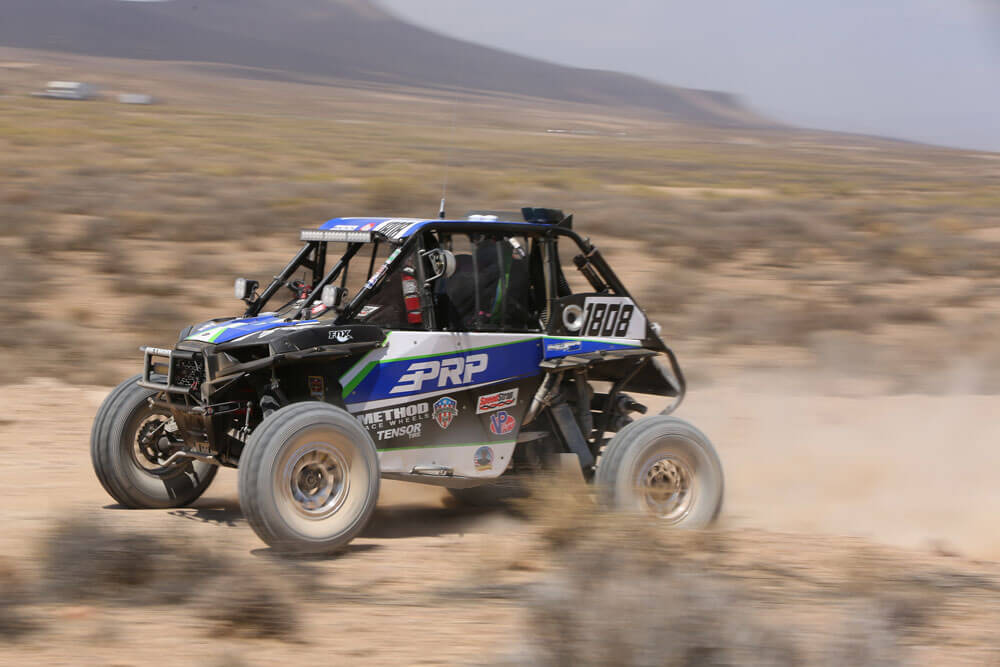 Another teenager Maddie Wedeking finished fourth in points. The 17-year-old scored her best finish of fourth in the season finale. She also competed in the King of the Hammers this year.
"I grew up in the industry because my dad owned PRP," said Wedeking. "So I went to all of the events and I wanted to race. Sara Price inspired me to get going and my dad was 100% behind me. Parker was my first BITD race. I was timid and nervous, but I loved it."
In the UTV Unlimited class, Australian racer Brett Comiskey won the title, beating out Michael Isom and Jeramiah Drew. All were driving Can-Am Maverick X3's. Comiskey won three races this year: The UTV World Championship, the Laughlin night race, and the Pahrump finale.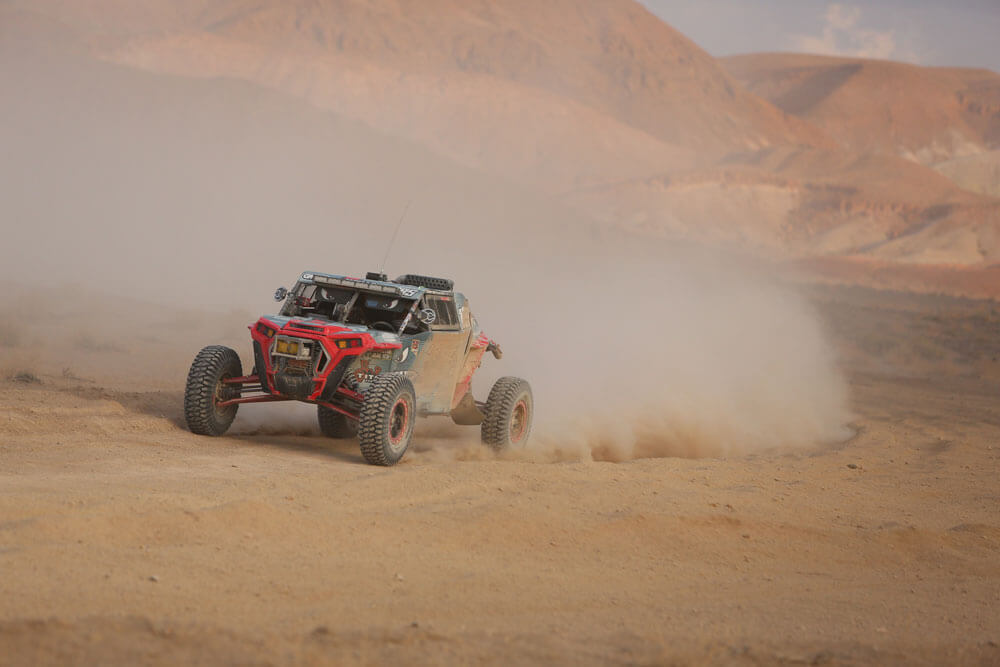 "It's been an awesome year," said Comiskey. "It was truly an awesome experience. We'll be back in 2019 to take another crack at it. I think we'll try UTV Pro this time."
Mobbin Racing's Michael Isom won the Vegas to Reno event, scored four additional podiums and finished just 16 points behind Comiskey in the final tally. His co-driver James Konces drove the car in the final round while Isom was recovering from an illness. Isom will return next season in a new Can-am being built by No Limit.
"They had a flawless day, especially after jumping in the car at the last minute," said Isom. "They had a solid second and that gave us a second in points. I'm super happy about the season. In the first two races, we started with one of my clients in the car. From there James ran the last five races, four of them with me. He will be in the car all next year."
Though Jeremiah Drew didn't win a race this season, his privateer team put in a solid effort with three podiums on the season. He finished second at the Mint 400, as well as two third-place finishes: at the Laughlin night race and at Pahrump.
"We run a very small program, but we do it because we love the sport and we love being out there enjoying our freedoms," said Drew. "My co-driver Peyton Pinckard was tremendous this year. There are really fast guys in this class."
There is no rest of the desert racers as the 2019 BITD season is just around the corner. The Casey Folks Parker 250 is scheduled for January 11-12 in Parker, AZ. DN