Beau Baron Wins 2017 WORCS Pro ATV Season Opener
WORCS Racing Round 1 Pro ATV Race Report
Mesquite, NV – Beau Baron picked up right where he left off in the Rocky Mountain WORCS Series presented by Maxxis and Dirt Wheels by winning the 2017 WORCS Pro ATV season opener at Mesquite MX. The defending WORCS Pro ATV Champion beat out Robbie Mitchell and Mike Sloan for the victory. Collins Webster was fourth, ahead of Pro Rookie, Jerry Maldonado rounding out the top five.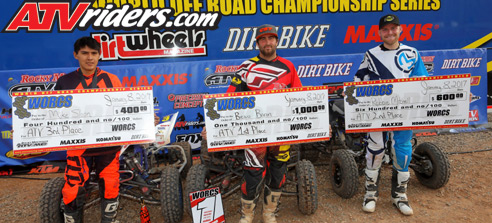 WORCS Racing Pro ATV Podium (left to right)
Mike Sloan (3rd), Beau Baron (1st), Robbie Mitchell (2nd)
The event was held on expanded course, incorporating the technical and big air motocross circuit with the expansive sand whoops in the hills surrounding the track. Temperatures in the mid-50s made for perfect racing conditions, but the sand whoops took its toll on the racers and especially their hands.
CST's Beau Baron fell back to third early on, but he held a consistent pace. Running in clean air out of the dust, Baron quickly picked off Sloan and then took the lead from Mitchell late in the race.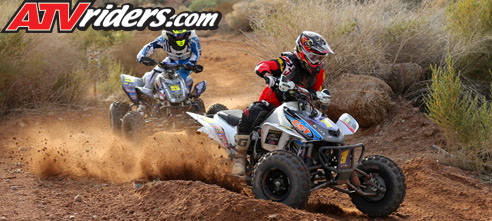 CST's Beau Baron made the pass on Robbie Mitchell in the 7th lap of the 10 lap race to take the lead
"I had a really tough time hanging with Robbie at the beginning," explained Baron. "I followed Robbie for a few laps, then Sloan got past me. I got some clean track, made up time a lap at a time and then I took the lead for good. This is probably the most brutal track we go to, but Roll Design did a great job tuning the Elka shocks and my hat is off to Curtis Sparks for building the best engines. These engines are legendary and I proved it again."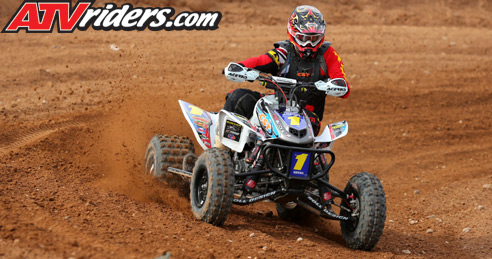 ELKA's Beau Baron secured the WORCS Pro ATV season opener win
DWT's Robbie Mitchell challenged Baron, but settled for second in the end after holding an early lead in the race.
Zbros Racing's Robbie Mitchell grabbed the early lead in the first lap with Beau Baron & Mike Sloan in chase
"I was trying to be aggressive at first and I'm not sure that was a good idea," said Mitchell. "I was feeling good and I led most of it. I tapered off a little bit at the end and Beau came on strong. So we'll have to go home and do a little homework so we can come back strong at Primm."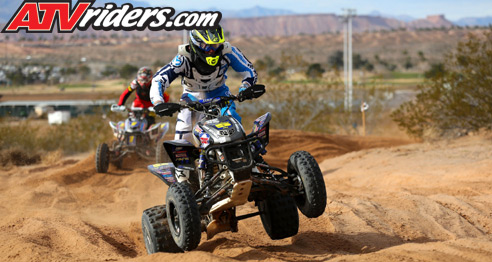 LMR Racing's Robbie Mitchell finished in the 2nd spot on the podium
STI's Mike Sloan made some of his first laps on a new Duncan Racing Yamaha during the race. He made the decision to switch to Yamaha just a few weeks ago, a decision that paid off with a podium finish at the season opener.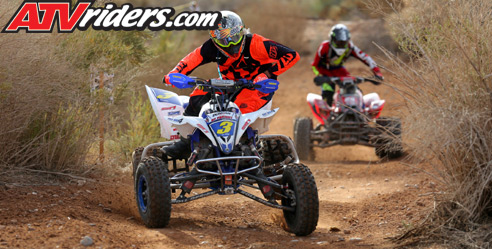 Duncan Racing's Mike Sloan battled with Beau Baron for the first half of the race
"I never really tested the quad before today, and it was a good quad right out of the box," said Sloan. "I switched because I wanted to ride to my full potential and try something new. I stayed close. They'd pull away in the motocross section and I'd catch them in the desert. I made a few mistakes, but I'm happy that the bike worked perfect right out of the box."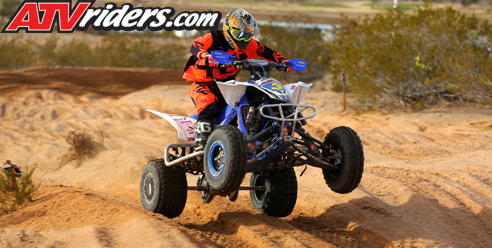 ELKA's Mike Sloan made an impressive debut on his new Yamaha by holding onto a third place finish
Goldspeed's Collins Webster also made the switch to Yamaha after riding a Can-Am last season. He actually rode his practice bike in the race, but that didn't slow him down off the start as he grabbed the Holeshot, but he dropped back to fourth by the checkered flag.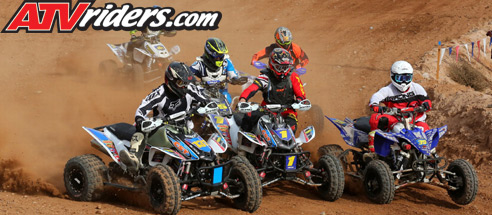 PEP Racing's Collins Webster grabbed the holeshot
"We got the race bike built, but I didn't feel comfortable on it, so we busted out the trusty practice bike," said Webster. "Jamie Ortiz and Wayne with PEP built the bikes from head to toe. I owe it all to them. Those guys stepped up big time for me. I got a little overzealous and too pumped up and couldn't overcome it at the end."
SSi Decal's Collins Webster also made the switch to the Yamaha for 2017, and finished in the 4th spot in his debut
Triump Motorsport's Jerry Maldonado made his WORCS Pro ATV debut after a successful career as a youth racer, but he made his return to the series all grown up and ready to test his skills in the pro ranks, where he rounded out the top five.
Logan Huff Takes Mesquite MX WORCS ProAm Win 
In WORCS Pro Am Class, Logan Huff showed he had rebounded from injuries sustained last April by winning his first race back since his injury. Ty Sanders took the holeshot, but finished second on a Honda followed by Tyler Benally rounding out the podium in third.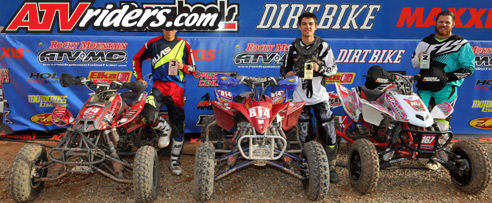 WORCS Racing Pro-Am ATV Podium (left to right)
Tyler Benally (3rd), Logan Huff (1st), Ty Sanders (2nd)
"I'm super glad to be back," said Huff. "I didn't expect to come out with the win today, but I pushed through the rough track and made it happen. I had broken my neck in April in a crash at Sand Hollow. I was out of work for three months. I got my quad put back together in November and I've been riding every weekend since. I wish I had words to explain my happiness right now. I can't thank everyone enough for keeping me racing."
ELKA's Logan Huff secured the win in his return to WORCS Racing after taking off most of 2016 after a serious crash while practicing
Goldspeed's Ty Sanders ripped to the holeshot, but fell back early. He overcame back pain to get the runner-up slot.
Goldspeed's Ty Sanders grabbed the WORCS Pro-Am Holeshot & he went on to finish in the 2nd spot
"Art Lenear builds a great horsepower motor and Gold Speed Tires helped me get off to a great start," said Sanders. "I took the holeshot and tried to set the pace. I let Logan around me early, and fought through back pain to get into second at the end. All the work and preparation is finally paying off."
Tyler Benally is pleased to start off the year with a podium, especially after his hydration system stopped working and exhaustion definitely took its toll.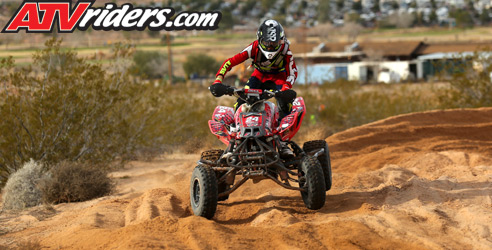 Tyler Benally rounded out the WORCS Pro-Am Podium
"About halfway through, my water bag stopped working," said Benally. "I got tired, but I pushed it and did what I could. This is my first season kicking it off on the podium. I couldn't ask for a better start to the year."
The ATVs will be back in action January 27-29 as WORCS heads to Primm, NV for Round 2 at Buffalo Bill's Resort and Casino.
SSi Decal's Collins Webster also made the switch to the Yamaha for 2017, and finished in the 4th spot in his debut