David Haagsma Takes WORCS Pro SxS Win at Round 3
Beau Baron Takes WORCS Pro Stock SxS Win
Taft, CA  – Maxxis' David Haagsma drove his naturally aspirated SXS to his first WORCS Pro SXS victory of the season at Honolulu Hills Raceway to take over the points lead. STV Motorsport's Nic Granlund finished second, ahead of BDR Motorsport's Larry Heidler. Ryan Hilt and Corbin Wells rounded out the top five.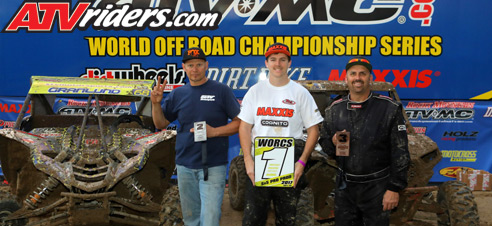 Round 3 WORCS Racing Pro UTV Podium (left to right)
Nic Granlund (2nd), David Haagsma (1st), Larry Heidler (3rd)
After the track flooded on Friday, due to torrential downpours from Winter Storm Lucifer, competitors expected a mud fest. Instead, with WORCS officials working overtime on the track, the event turned out to be one of the fastest this season.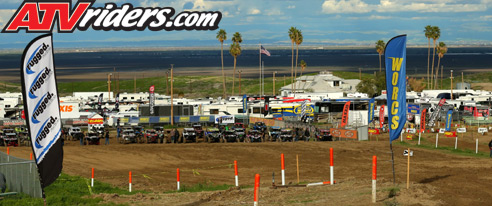 After heavy rain on Friday, the skies cleared for most of the weekend with only a few passing showers, which made for perfect race conditions
Several of the top competitors running turbocharged cars fell out early in the event with issues, leaving Haagsma to take the dominate win. The initial start was waved off due to an issue with course markings. On the restart, Haagsma moved quickly into second and he took the lead shortly thereafter when Ryan Piplic's car fell out with mechanical issues. From there, he ran a flawless race taking the win, as well as the points lead.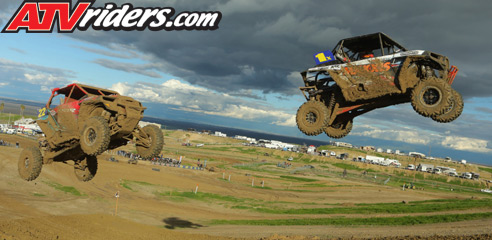 Maxxis' David Haagsma battled his way through the pack as racers dropped out with issues around him, which moved him into the lead
"I just tried to stay consistent because I'm still not in a turbo car and I lack some horsepower on the top end," said Haagsma. "All the top turbo guys we battled broke down. We have a little points lead now and we'll try to stay consistent. I may run the non-turbo car for the rest of the year. Cody broke and Beau broke. There were just a lot of cars that went down on the start. Then Piplic broke. He blew a belt, and I knew from there on I had to calm down and go slow."
The reliability of his car shined here. In fact, out of the top five in points coming into this race only two finished the race in the top ten.
Sparks Racing's David Haagsma cruised to his first win of the season after the restart to take the WORCS Pro SXS Points lead
"Honestly, I was a little scared that those turbos would keep beating me in my non-turbo car," said Haagsma. "My turbo car wasn't ready, but it seems like the non-turbo car was the way to go because it was more dependable. This is a good start to the season."
David Haagsma Takes WORCS Pro SxS Win at Round 3
STV Motorsports' Nic Granlund entered his Yamaha in the Pro race, so he could get some extra practice in for the Pro Stock SXS event. He outlasted and late-braked several other drivers in the corners to net the runner up slot.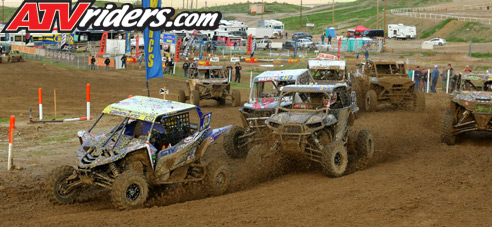 GBC's Nic Granlund grabbed the holeshot on the restart from the second row & he quickly began chasing down the racers on the first row
"I was moving up on the first start," said Granlund. "Then on the restart, I lined back up and double clutched it off the line. It was pretty muddy and the tires were working really well. I just kept plugging away and I was out-braking them."
STV's Nic Granlund went on to claim the 2nd spot on the podium with his time adjustment from starting on the 2nd row
BDR Motorspots' Larry Heidler was also driving a non-turbo car as well. Like the Haagsma and Granlund, he outlasted the competition and drove it home third, earning his first career WORCS Pro podium finish.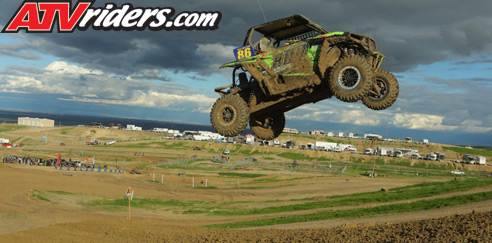 GBC's Larry Heidler claimed his first WORCS Pro SXS Podium finish with a 3rd place at Taft
"On the restart, I was second and about halfway through that lap, I got around Cody and drove as hard as I could," said Heidler. "I was trying to keep up on time. The only time I saw Davy was when I lined up next to him. From there, I never saw him at all."
In Pro Stock, HOLZ Racing's Beau Baron netted his second victory of the weekend after winning the Pro ATV race. He snagged the holeshot and ran first for the entire race in his Polaris RZR, holding off the similar car of Ray Bulloch. Granlund finished third, recording his second podium of the weekend, ahead of the RZRs of Cody Bradbury and Matthew Hancock.

WORCS Racing Pro Stock UTV Podium (left to right)
Nic Granlund (3rd), Beau Baron (1st), Ray Bulloch (2nd)
"These cars are hit and miss all of the time," said Baron. "I was frustrated in the Pro race. I didn't make it a lap before my car overheated. The Pro Stock car ran great. It's bone stock and that's what I like; it showcases driving skill and not who has the biggest wallet. I pulled the holeshot with the stock car. It's great to pull off two wins this weekend."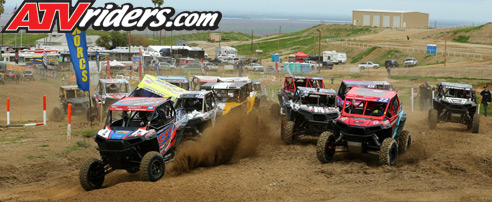 CST's Beau Baron grabbed the holeshot & held on to take his 2nd straight win in the WORCS Pro Stock SxS Win
Maxxis' Ray Bulloch ran nose to tail with Baron for most of the race. Though he was able to catch Baron, he was unable to make that crucial move for the lead. He credited Baron with running a flawless race.
Walker Evans Racing's Ray Bulloch secured the 2nd Spot on the Pro Stock SXS Podium
"Beau earned it," said Bulloch. "He didn't make a single mistake. Beau and I battled to the bloody end. The track was brutal today. I hit a hole really hard in the asphalt section and saw stars. I got off the pace for a minute. After that I reeled him back in. I showed him a wheel a couple of times, but my hat is off to Beau. He ran a perfect race."
GBC Motorsports' Nic Granlund ran the same Yamaha he raced in the Pro SXS event. He said he simply hosed it off and raced it.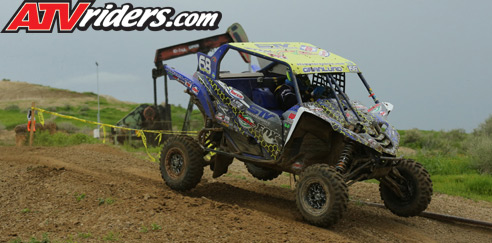 FOX's Nic Granlund secured the final spot on the podium to maintain the Pro Stock SXS Points Lead
"I was hanging with them for a couple of laps, but I had a get off and lost some momentum there," said Granlund. "The Yamaha just keeps on pushing. I raced it yesterday and I raced it today. It's been a good year."
In the Pro Women's race, Sparks Racing's Jennifer Broughton scored her first victory of the season. Emily Green and Giuliana Flowers completed the top three. All three were driving Polaris RZRs. Broughton said tuning and testing after the last race made the difference for her.
SSi Decal's Jennifer Broughton secured the Women's SxS Class Win at Honolulu Hills WORCS
"The track was super tight and there were only a few lines," explained Broughton. "Someone tipped over in front of me, I got around her and took off like a scared rabbit. We got some tuning done on it by Curtis Sparks. They got the car running super well and it made a huge difference. This felt good because I'm pretty confident in my driving, so it's nice to have a good car behind me."
The WORCS SXS racers next head to the brutal and exciting track in Lake Havasu City, AZ. That race is scheduled for March 17-19.