WORCS Racing SXS World Finals Race Report 
Cody Bradbury Takes SxS World Finals Overall Pro Win
Primm, NV (1/26/2017) – Rain soaked, mud covered and cold, Cody Bradbury toughed it out to finish first overall in SXS World Finals at Buffalo Bill's Resort and Casino. The special doubleheader SXS-only event was round one and two of the Rocky Mountain WORCS Series presented by Maxxis. Cody Bradbury, driving a 2017 Polaris RZR Turbo, beat out defending WORCS Pro Production Champion David Haagsma, who was second overall, ahead of Ryan Piplic, Larry Heidler and Keith Johnson.

SXS World Finals Pro Class Winners (left to right)
Cody Bradbury (Pro Production) & Nic Granlund (Pro Stock)
In UTV Pro Stock, Nic Granlund recorded the overall win in a Yamaha. Ray Bulloch rebounded from a hard crash in Sunday's race to finish second overall, followed by Beau Baron, Shelby Anderson, and Jeff Obering.
The Overall Winner in each class took home these Aluminum Trophies
The first-ever SXS-only event for WORCS was held on two days on two different race courses. Saturday's race was held on the Lucas Oil short course, while Sunday's event was held on WORCS standard off-road desert track. The two finishes were combined similar to a two-moto format, as well as fastest time, to determine overall winners.
On Saturday, the weather was perfect for racing with blue skies
Weather played a huge role in the outcome. Friday's qualifying was rained out, forcing organizers to set starting position by draw for the short course race. That race was held under beautiful clear skies with temperatures in the mid-50s. Conditions changed significantly Sunday with heavy rain, turning the race into a battle through the mud, water and frigid temperatures.

On Sunday, the weather was dramatically different than Saturday with heavy rain & cool temperatures
Holz Racing's Cody Bradbury overcame the weather, the track and the competition to score the overall victory, earn $2,500 and get the bragging rights of the overall champion. Bradbury just lost out to Piplic in the short course race to finish second. In Sunday's race, he took the lead from Piplic on the first lap and never looked back. Bradbury joined Polaris' factory team this year.
Walker Evans Racing's Cody Bradbury took home an extra $2,500 by edging out Nic Granlund for the Overall Pro SxS Win
"Piplic and I were in the 2017 Polaris RZR Turbos and as soon as the boost hit, we were four cars out in front of everyone," said Bradbury. "I snuck under Piplic and then ran the first lap flat out to see where everyone was running. I had a good gap from there and cruised in. It was rough on Sunday. It was important to get a good start because the track was beat. There were rivers running down the rhythm lanes.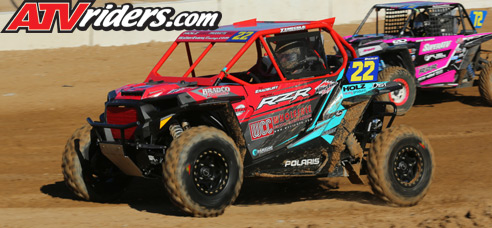 Cody Bradbury Clinches SxS World Finals Overall Win
In the short course race, Bradbury piloted his brand new Polaris into the lead just before a competition caution. Piplic outgunned him on the restart and took the lead, handing him second in that race.
GBC's Cody Bradbury overcame the rough conditions on Sunday to take the Pro Production Win, which clinched him the overall win
"I tried to run a smooth race and the new Walker Evans shocks I installed helped a lot today," said Bradbury. "These shocks were designed with shorter shafts to work specifically with this type of short course. We were able to drive into the corners a little deeper and hold it a little longer. The first round always seems to be my Achilles heel. So it's nice to have the points lead going into round two."
Maxxis' David Haagsma was running a non-turbo Polaris RZR in the race. After drawing a number one starting spot for the short course race, Baron held on for a third-place finish. He finished second in Sunday's race. Though he had a consistent weekend, Haagsma's naturally aspirated car was really no match for the turbos, a problem he plans to rectify before the next round.
Maxxis' David Haagsma grabbed the holeshot on Saturday, but he was out powered by the Turbos & dropped back to a 3rd place finish
"These 2017 Polaris RZR Turbos really out-powered my non-turbo," explained Haagsma. "They were just gone. It was definitely a good run especially with the weather. We may have a car change before the next round. We may have a turbo."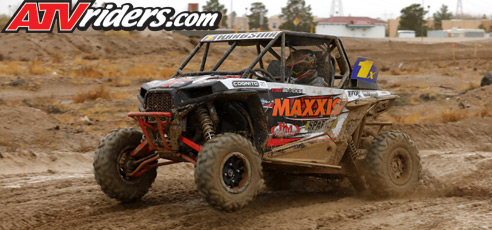 Sparks' David Haagsma rebounded on Sunday & finished 2nd, which boosted him to 2nd Overall in the Pro Production UTV Class
FOX's Ryan Piplic finished third overall, but he had to work for it. He drew a second-to-last starting position for the short course race and drove through the field to finish first. In Sunday's race, he was battling for the lead when drive belt problems moved him back to seventh at the finish. Though he had planned only to run Pro Stock this year, he put together a turbo car for this event.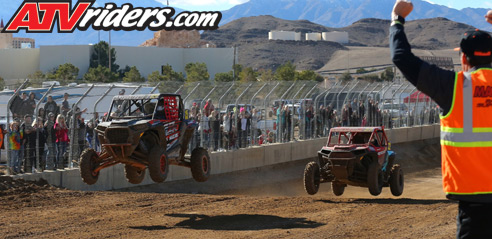 Maxxis' Ryan Piplic charged his way into the lead to take the win on Saturday in the Pro Production Class
"On the last lap, belt syndrome bit me," said Piplic. "Cody was on another level today. I wanted to go one-two with him and try to battle for the win, but I had nothing for him today. I really enjoyed the format. I was skeptical at first, but to have the two-race format with all SXSs was nice. I was surprised how well I did in the short course race, coming from back to front to win. I'm happy with the weekend."
Super ATV's Ryan Piplic was running in the 2nd spot until he snapped a belt in the final lap, which dropped him back to 3rd overall
Pro Production SXS World Finals Race Report
BDR Motorsport's Larry Heidler's fourth-place overall finish was his best in WORCS competition. Driving a Polaris RZR 1000 in a class dominated by Turbo machines, Heidler finished fourth in the short course race. With cooling issues caused by a mud-clogged radiator, Heidler was eighth in Sunday's race.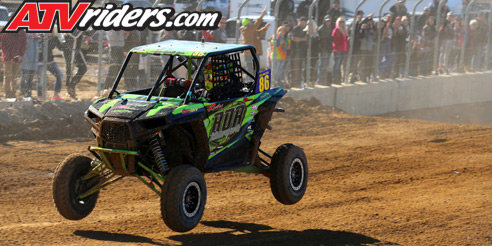 Hess Motorsport's Larry Heidler finished 4th on Saturday with a large crowd of spectators along the fence line watching the racing action
"My setup was pretty spot on and it worked pretty well on Saturday," said Heidler. "There was a lot of hard work and time spent getting this car ready. So it's nice to come out with a fourth. Sitting fourth in points going into the next round makes for a nice start to the season. With the conditions on Sunday, I'd say that was a win for me. I'm still running a naturally aspirated car and the track here was definitely a turbo car track. Once we get to some of these tighter tracks, my car is going to have a better chance."
GBC's Larry Heidler finished a WORCS career best 4th Overall
Super ATV's Randy Romo finished seventh overall in his Polaris RZR. While he had trouble in the short course race, he earned his first career Pro podium in Sunday's race, finishing third.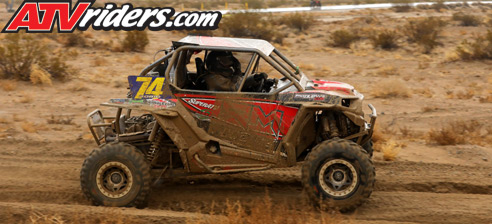 Pro Rookie, Randy Romo, finished an impressive 7th Overall after claiming a 3rd place finish on Sunday
"I was hoping for a top ten in this class, and to be on the podium is exciting," said Romo. "Two races in a row, I had to run with no visor and my eyes took a beating. We were geared a little short for the short course race and didn't have enough top end. That won't happen again. This was a tough battle this weekend. This is something I've never experienced before."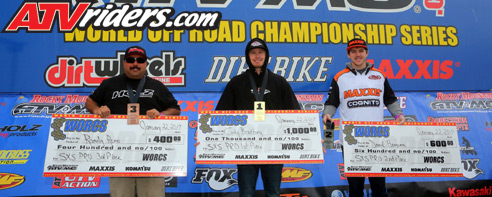 Round 2 WORCS Racing Pro Stock UTV Podium (left to right)
Randy Romo (3rd), Cody Bradbury (1st), David Haagsma (2nd)
Nic Grandlund Takes SxS World Finals Pro Stock Win
In Pro Stock, GBC's Nic Granlund carried the day in his Yamaha. After a 13th-place start in the short course race, Granlund immediately started moving through the field and finished second. He repeated the runner-up effort in Sunday's race after battling with Doug Eichner and Bulloch on the muddy course. That battle took Bulloch out of the lead and put Granlund on top of the box.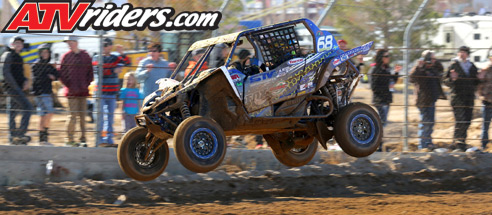 STV's Nic Granlund charged way into the 2nd spot on Saturday
"WORCS did a great job setting up this event," said Granlund. "The Yamaha was really ripping this weekend. I just set a good pace and tried not to make a mistake or crash."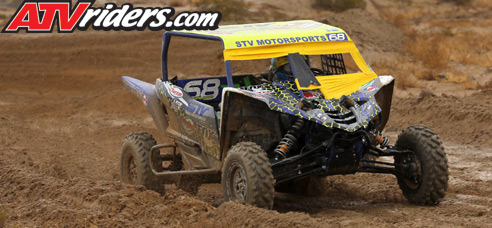 FOX's Nic Granlund once again scored another 2nd place finish on Sunday, which boosted him to 1st overall in the SxS Pro Stock Class
Maxxis' Ray Bulloch and his Polaris simply outclassed the field in the short course race. After taking the lead on the first lap, he was never seriously challenged. In Sunday's race, Bulloch was in the lead in the outside of a turn when he tangled with both Granlund and Eichner. The contact sent him off course into a chunk of concrete, ripping an A-arm out of his RZR's frame. He recovered to finish sixth in the race and second overall.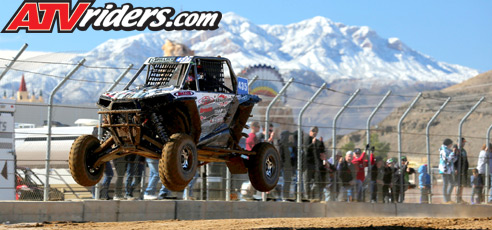 Maxxis' Ray Bulloch held off Nic Granlund on Saturday to take the Pro Stock Win
"Saturday was awesome," said Bulloch. "We got out front early and never looked back. In the second race, I was on the inside in some mud and Eichner hit me really hard and then Granlund hit me from behind. Even with the lower A-arm ripped out of the frame, I was able to drive pretty well. We're going for a championship this year so to go out there with a broken A-arm and finish second overall in Pro Stock is pretty awesome."
Super ATV's Ray Bulloch had issues on Sunday, which dropped him back to 2nd Overall in the Pro Stock Class
CST's Beau Baron put on an amazing show in the short course race. After drawing a 30th starting position, he diced his way through the field to finish eighth. He used the resulting starting position to win Sunday's race on adjusted time and record a third-place overall finish. Baron was driving a Holz-built Polaris with bone stock engine and clutches.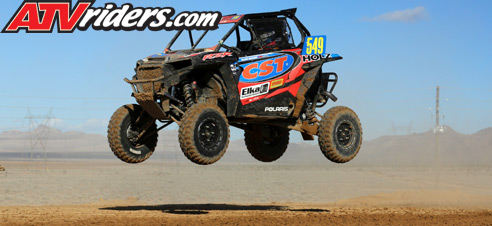 ELKA's Beau Baron started at the back of the pack on Saturday, but charged his way to a 8th place finish
"I want to be in points, and this finish sure beats a DNF," said Baron. "The conditions were rough today. My eyesight is still blurry from having to toss goggles two laps in. It was a test, for sure. My hands were frozen and it was a tough deal today. The Polaris RZRs are great. There is absolutely nothing done to my engines on both of them. I won a race in a completely stock car so that's a testament to Polaris."
Sparks' Beau Baron charged his way to the Pro Stock Win on Sunday, which boosted him to 3rd Overall
Walker Evan's Shelby Anderson finished fourth overall in her Pro Stock debut after stepping up from SXS 1000 Stock. She started 20th in the short course race and drove through the field to finish fourth. In Sunday's event she recorded another fourth, placing her fourth overall.
Walker Evans Racing's Shelby Anderson made an impressive Pro Stock debut by finishing 4th Overall
"I can't complain in my first race weekend in Pro Stock," said Anderson. "I really wanted to run harder, but with all the weather and how gnarly the track was, I just tried to stay consistent and now I have a chance to get into the points chase. We'll just keep moving up and carrying forward the momentum."
WORCS Racing SxS World Finals Race Report 
In SXS 1000 Stock, Pro Motorsport's Gareth Dihel recorded his first WORCS victory. Driving a Pro Motorsports Polaris, he was second in the short course race and won on Sunday to record the overall victory. David Johnson was second, ahead of 13-year-old Branden Sorensen.
Gareth Dihel claimed the Overall win by finishing 2nd on Saturday followed by the win on Sunday
"I'm super excited," said Dihel. "I'm going for the championship this year. It was really cold and rainy. I took an extra pair of goggles in a bag duct taped to my seat. It worked out well."
Branden Sorensen is running an adult class on a waiver due to his age. His talent, however, seemed years ahead of a teenager's as he finished first in the short course race and 10th on Sunday in his Yamaha.
Branden Sorensen claimed the SXS 1000 Stock Class win on Saturday
"It was super muddy and rainy so that made it difficult," said Sorensen. "I have a long way to go. Hopefully I can do well this year and get some bigger sponsors."
In the Women's Class, Amanda Sorensen won both races to finish first overall, recording her first Class victory. Emily Green went 2-2 to finish second, ahead of Jennifer Broughton, who nearly picked off Green in Sunday's race, but settled for third at the finish. Sorensen is a veteran of Lucas Oil short course racing, and she used that experience to her advantage, dominating Saturday's race. On Sunday, it was more of the same as she took the lead in the first turn and never looked back.
Amanda Sorensen dominated on Saturday & Sunday to take the Women's UTV Overall Win
"The short course was my home; I made up 13 positions in six laps," said Sorensen. "On Sunday, Emily wasn't giving up the lead easily. I sat back a little bit and got the lead when she overshot the first turn. We're going for a championship this year, so this is a good start."
Jennifer Broughton admitted to not being in her element on the short course. She overcame her lack of experience to finish fourth. She picked up a spot on Sunday to finish third and came out of a tiebreaker for third overall.
SSi Decal's Jennifer Broughton Went 4-3 for 3rd Overall in the Women's Class
"I'm glad they ran the off road on the second day," said Broughton. "It's more my style. I made it through the short course and then finished well in the off road. It was nice to have everyone out there cheering me on."
Sam Chournos claimed the Youth 800 UTV Overall Win
Youth class winners were: Stockton Bulloch (250), Sam Chournos (800), and Brooklyn Leaverton (250 Stock).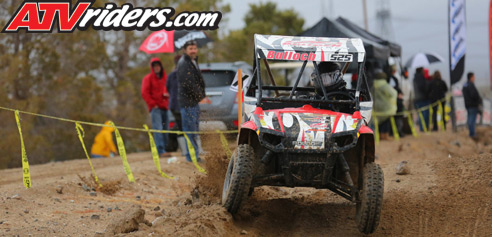 Stockton Bulloch took home the Youth 250 UTV Overall Win
The WORCS SXS classes will be back in action February 17-19 when the series heads to Honolulu Hills Raceway in Taft, CA. WORCS ATV and motorcycle classes will race next in Primm, NV January 27-29.
GBC's Cody Bradbury finished 2nd on Saturday in the Lucas Style Race